The Canadian coach of Japan's two-time men's champion Team Yanigasawa has had enough. An allegation of cheating by his team was made on social media, which Kelowna BC's Bob Ursel vehemently denies ever happened.
"This is bullshit," said the longtime high-performance coach. "There is plenty of evidence to show that this was a video issue, there was no manipulation of a stone and no cheating.
"Both teams on the ice have confirmed this … why hasn't the post been removed? It's clearly untrue and damaging."
UPDATE: As of Wednesday night/Thursday morning Sept. 20/21 the post had been removed and two high-performance competitors had apologized to Team Yanagisawa on their social channels.
The furor started Sunday night, with a post made on the platform previously known as Twitter. Team Yanagisawa's front end players were brushing a stone toward the rings in an Alberta Curling Series Major quarterfinal match in Beaumont against Switzerland's Michael Brunner and, at first glance, the grainy "X" video seemed to show the stone jump closer to the centre line and slow a bit.
The rock ended up on the button as designed.
Jumpycurlcam 1 (; 0:45)
"If it's wide and heavy, just stop it with your broom" wrote the original poster, who then added the hashtags "#cheatercheaterpumpkineater "and "#unreal."
A steady stream of negative comments poured in, with some coming from big-name competitors in the sport.
"Unfortunately that looks intentional and I wish optics were otherwise," wrote one. "Anyone playing Yanagisawa will be watching intently for infractions now."
"But let's not lie to ourselves and believe this was the very first time he did this," speculated another. "You don't get caught doing this on your first try. Also the entire team must have known and didn't say anything. It's a bad look on the entire team."
Bob Ursel with his team last December
Ursel says the cameras used by Curling Stadium—which livestreamed the event on YouTube—made the stones appear to "jump" to either side, and there were many examples of this. Ursel forwarded nine video clips from that game to The Curling News and, indeed, many rocks appearing to jump unnaturally when in fact, as now verified by multiple parties, there was no unnatural movement on the ice.
It is easy to see how online viewers might believe what they'd thought they'd seen.
In multiple instances rocks appeared to suddenly shift position while brushers were either sweeping, cleaning or even ignoring the path of each stone.
First credit for this observation goes to X user David Ross, who noticed at the start of the video, seconds before the phantom infraction takes place, that the stone first jumped outward, away from the centre line, before jumping inside again.
Yours truly pointed this out in a post, prompting X user Naoki Iwanaga to reply "Very good point. It's sad to see people cannot believe in the spirit of curling."
CurlingZone, the organization behind Curling Stadium, posted a mea culpa of sorts on Monday night, and urged followers to consider other explanations.
"At first glance this video seems damning, but a few things to consider here," the post read.
1. The rotation of the handle is not interrupted, something you'd be more likely to see if the rock was touched. Focus only on the handle.
2. Taking a slow-motion look at the video through YouTube's editing suite, the rock starts to make it's jump prior to the possible touch. As the rock gets closer to the camera, the field of view narrows as well, also adding to the illusion.
3. The angle of the camera makes it very difficult to conclusively tell it was touched. Much like when measuring a biter that appears out, the rounded edge would allow a brush to get very close to the rock and even appear like it's touching.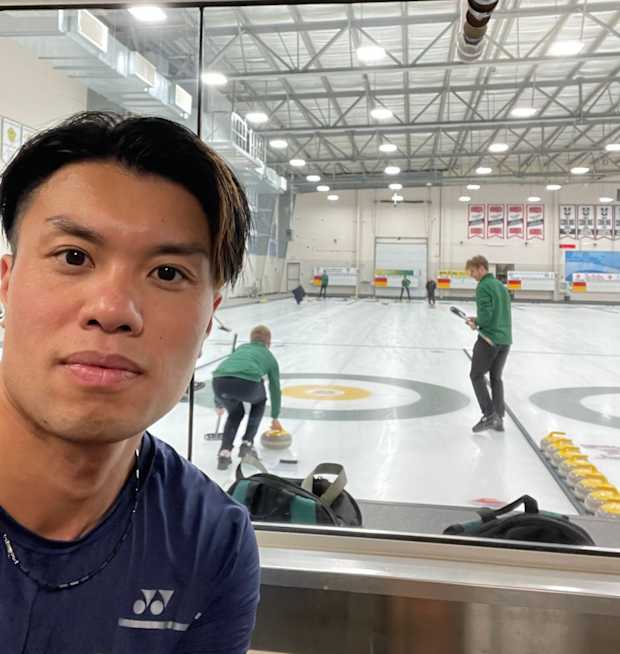 Japan third Tsuyoshi Yamaguchi in Alberta on September 6
"It's outrageous," said Ursel. "People are making accusations and piling on without knowing the facts … there was no infraction whatsoever.
"It's very obvious there is a problem with how the video captures the rock movement.
"I've worked with the Japanese national men's team for six years now and can testify that they have unwavering moral values and an impeccable sense of integrity, honesty and fairness. This team exemplifies good sportsmanship at every level, on and off the ice, and would never cheat or try to gain an advantage through unfair play. I don't believe for a second that they cheated or touched that stone. Anyone who knows this team at all would agree with me wholeheartedly."
"This is a 17-year-old kid, who would never, ever do such a thing—and his teammates wouldn't allow it, either."
Team Brunner • Anil Mungal-Sportsnet
After learning of the post Ursel reached out to Team Brunner and arranged a face-to-face meeting. The Swiss players told Ursel they did not believe there was any infraction. Specific to the shot in question, all members of the team had watched the shot live and up close and advised Ursel the shot looked good coming up to the hog line, that it was definitely not heavy and that it was not touched or manipulated.
Team Brunner later took to social media, and replied to the original post.
The Swiss foursome—which lost the Beaumont semifinal—also watched replays of their own stones behaving badly. In one example shown by Ursel, the camera appeared to show their stone lurching left and right which was followed by a flurry of focus problems.
Jumpycurlcam 3 (; 0:27)
Team Yanagisawa is currently on another three-month competition tour of western Canada, following a similar tour undertaken last season. Their next event starts Thursday morning in Okotoks, Alta. and features nine other international teams from six countries as well as Canadian heavyweights skipped by Matt Dunstone, Kevin Koe, Brendan Bottcher and Mike McEwen.
Team Brunner is also on Yanagisawa's side of the draw, and the two teams could meet as early as Thursday night.
German national coach Uli Kapp watched the Beaumont final online and posted his acknowledgment of camera anomalies, which might be considered curling's first artificial intelligence (AI) deepfake—minus the AI.
"Have been watching the Beaumont Final tonight and indeed I was several times confused on some camera activities while zooming out I guess(?)" Kapp posted.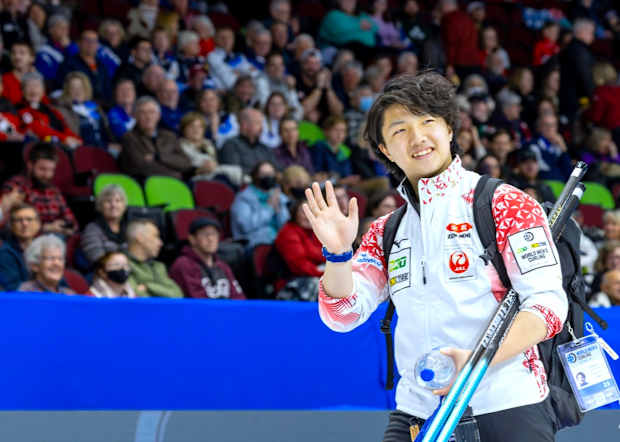 Japan second Takeru Yamamoto was a crowd favourite at the Ottawa worlds • WCF image
Ursel is planning his own statement for release and hopes the original post author—one of the Beaumont event players—will realize his post is "unfounded and hurtful" and will take it down, which would automatically remove all replies.
"I've watched hundreds of their games and they have never cheated, nor will they ever," said Ursel. "This is really getting the boys down, they don't deserve this."
Let's give the last word to the livestream commentators from Sunday's game. Here's what they said near the end of a stone's arrival in the house during the very first end of play, after the cameras appeared to show an unnatural jump—the video is below.
"Oooh, it picked on something, did you see that?"
"Yeah, I think that's just our stream,"
"Oh … okay."
Jumpycurlcam 2 (; 0:31)