Islam Makhachev retained the UFC lightweight title for the second time Saturday, recording an emphatic first-round knockout of featherweight champ Alexander Volkanovski in a short-notice rematch. Makhachev took a definite 2-0 series lead against Volkanovski in the main event of UFC 294 in Abu Dhabi, United Arab Emirates, leaving no room for doubt about who the king of 155 pounds is.
In the co-feature, surging contender Khamzat Chimaev (likely) earned a middleweight title shot with a majority decision win over former UFC welterweight king Kamaru Usman.
Here are five takeaways from the pay-per-view card.
Makhachev is pound-for-pound No. 1
There's no denying him now: Makhachev is the best fighter in the world.
Makhachev arguably deserved that distinction after handing Volkanovski his first UFC loss in a classic February fight that went all five rounds. But Volkanovski remained ahead of Makhachev in the promotion's pound-for-pound rankings – they were No. 1 and No. 2 at the time – seemingly because voters valued Volkanovski's overall body of work more than the head-to-head result.
But there's a big difference between edging someone in three of five rounds and sending them to the shadow realm with a devastating, picture-perfect head kick that drew comparisons to legendary heavyweight striker Mirko Cro Cop. With Makhachev having defended the lightweight title twice now, and with Volkanovski putting up his first-ever losing record in a calendar year, the 155-pound champ deserves to be ahead of the 145-pound champ. Sorry, but it's true.
Of course, neither is No. 1 in the official rankings now. Jon Jones returned to the UFC after three years away in March, capturing the vacant heavyweight title with a first-round bulldozing of Ciryl Gane. As a result, Jones, the former longtime light heavyweight champ, joined a short list of fighters who have held UFC titles in two divisions – and he also regained the status of pound-for-pound king.
Jones is an all-time great. Makhachev isn't there yet. There are a lot of records Makhachev, who's in the prime of his career, still needs to break. But pound-for-pound rankings are about the now – who's the best in the world at this very second. And what Makhachev is doing is more impressive than what Jones is doing. The Dagestani champ leveled up at UFC 294, showing he's just as much of a threat on the feet as he is on the ground.
If Jones runs through former two-time heavyweight champ Stipe Miocic at UFC 295 on Nov. 11, there's a good chance we'll be at least revisiting this conversation. But as of now, Makhachev deserves it. He's the pound-for-pound king.
Volkanovski's loss highlights risks of UFC 294 fight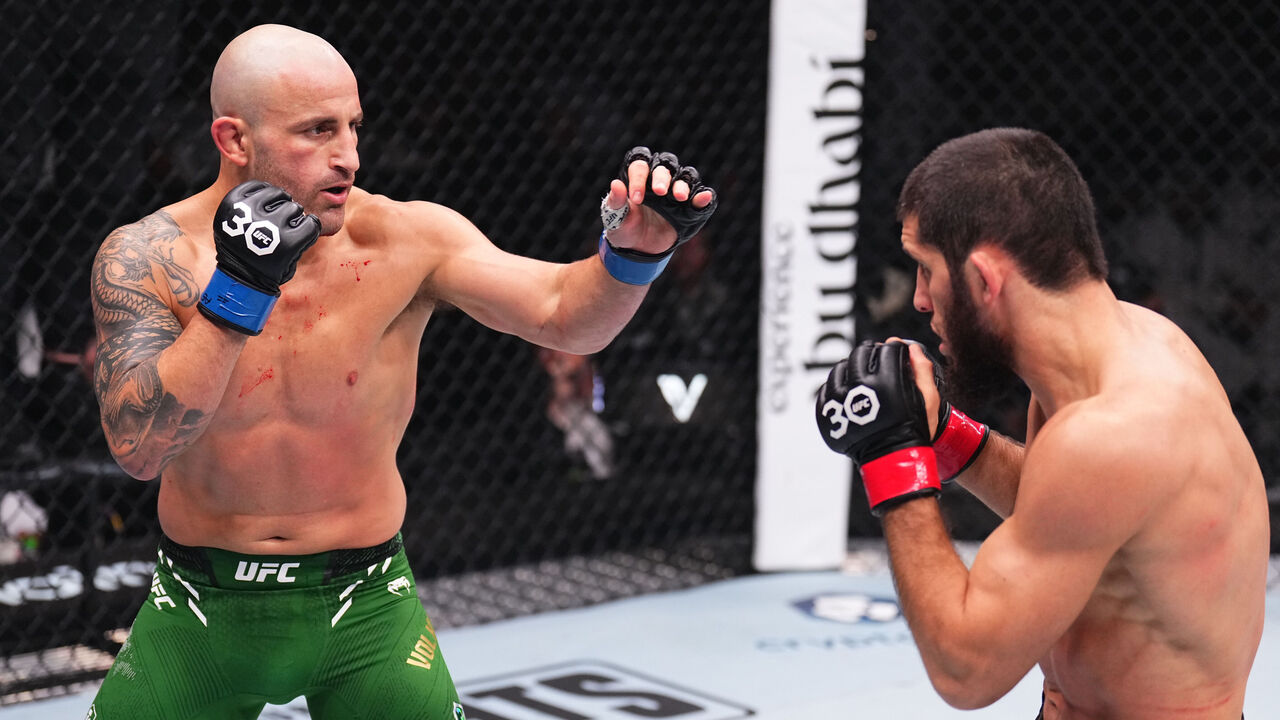 Volkanovski didn't need to be in this situation.
He was supposed to fight Ilia Topuria in a featherweight title defense in January.
That fight was all but locked in when he got the call 11 days out from UFC 294 to challenge Makhachev. Do you know what else was all but locked in assuming he beat Topuria? Another crack at Makhachev's 155-pound belt, with a full training camp.
Instead, Volkanovski accepted the rematch he had been dying to have for the last eight months with almost no time to prepare. And, as expected, he wasn't at his best. Fighters do lengthy training camps for a reason – they need to study their opponent and get into fight shape.
Anyone who said Volkanovski had nothing to lose, I hope you now realize that wasn't true. After such a lopsided defeat, he'll likely never fight for the 155-pound belt again – as long as Makhachev reigns supreme, at least. Volkanovski may not be able to headline UFC 297 in January as planned, despite his deep desire to do so. And, if we're being honest, at 35 years old, there's a reasonable chance Volkanovski is never quite the same after such a brutal loss.
Volkanovski agreed to step in because this was a high-risk, high-reward scenario. As he said before and after the knockout loss, he backed himself. He believed in himself. He thought he'd dethrone Makhachev this time.
He didn't. Now, he's in a much worse position than he was two weeks ago. He never had to be here in the first place. I won't argue Volkanovski should completely regret his decision, especially since he said postfight he participated, in part, to help with some mental struggles he's dealt with while inactive. But this probably wasn't the smartest career choice.
Volkanovski shouldn't fight in January
I'll keep this brief because we've already spent quite a bit of time on Volkanovski. While I'm not a doctor, there's no way in my mind that he should fight Topuria in January.
That's what Volkanovski wants – he made it clear in his Octagon interview that he wants the UFC to keep him busy – but he should consider pushing the fight back to the spring or, ideally, the summer.
Volkanovski had never been knocked out in the UFC before. This was his first stoppage loss since his fourth pro fight in 2013 and just the second of his career. And you cannot overstate how badly Makhachev melted him. Head-kick knockouts are always brutal – just ask Usman or Dustin Poirier. Volkanovski needs to give his brain a rest.
The Australian has been very active, fighting three times in 2023 – that's a lot for a champion. If he gets right back to work, he might find himself in a similar situation after facing the very dangerous Topuria – regretting coming back to the cage so soon.
Chimaev leaves some questions on table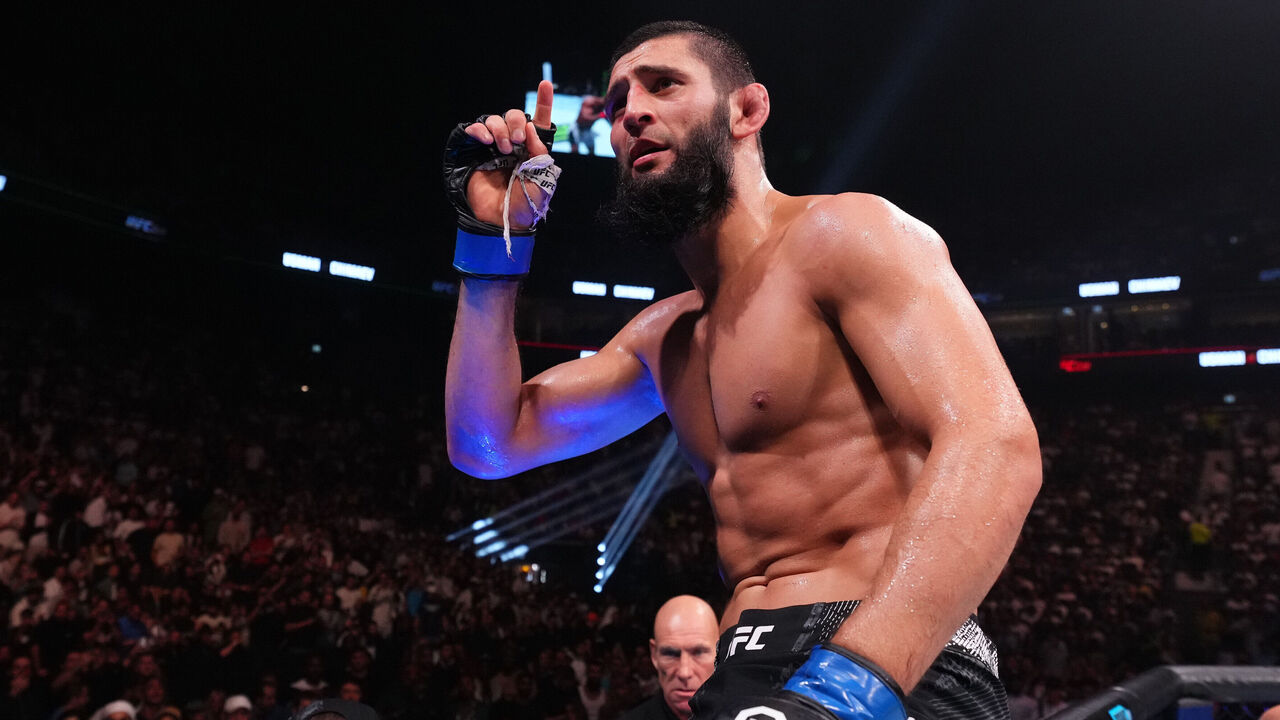 On paper, beating Usman is impressive no matter how you do it. Usman is the former pound-for-pound king and one of the greatest welterweights in UFC history. But the optics of Chimaev's relatively close victory over Usman were, admittedly, not great.
Usman stepped in on 10 days' notice. He'd never fought at 185 pounds before. And he was coming off back-to-back losses (to current welterweight champ Leon Edwards) that had fans wondering whether the all-timer had finally hit a decline. Oh, and he also has notoriously bad knees that could probably end his career at any moment.
Chimaev dominated the first round, but Rounds 2 and 3 were much more competitive. Usman could've won both frames. The former champ came on strong late, landing big punches on a tiring Chimaev.
Perhaps Chimaev deserves a pass here, as he suspected postfight that he broke his right hand in the first round. But that doesn't really excuse him from showing questionable cardiovascular endurance. That's an issue that could cost him wins in the future.
Chimaev is still a massive threat because of how good he is early in fights, and he'll be favored to beat Sean Strickland to claim the middleweight title in his next Octagon appearance. But for a guy who had run through all his other UFC opponents aside from Gilbert Burns, Chimaev definitely looked beatable Saturday. Usman said postfight he had a good shot at winning if it was a five-round fight, and it's hard to disagree.
On a somewhat related note, Chimaev shouldn't even be fighting Strickland next. Had he fought Paulo Costa as planned and walked away with a win, it'd be a different story. But when you have Dricus Du Plessis waiting in the wings, three months after pulling off an upset TKO win over former middleweight champ Robert Whittaker, a decision win over a former welterweight titleholder who stepped in on short notice doesn't quite feel like it warrants a shot at Strickland.
But UFC president Dana White said he wants Strickland-Chimaev next, so I guess we'll go with that. Don't be surprised if Chimaev mauls Strickland in two rounds or fewer, of course. But if Strickland – who has exceptional cardio – survives the early onslaught and outlasts Chimaev, don't be too shocked, either.
Usman's still got it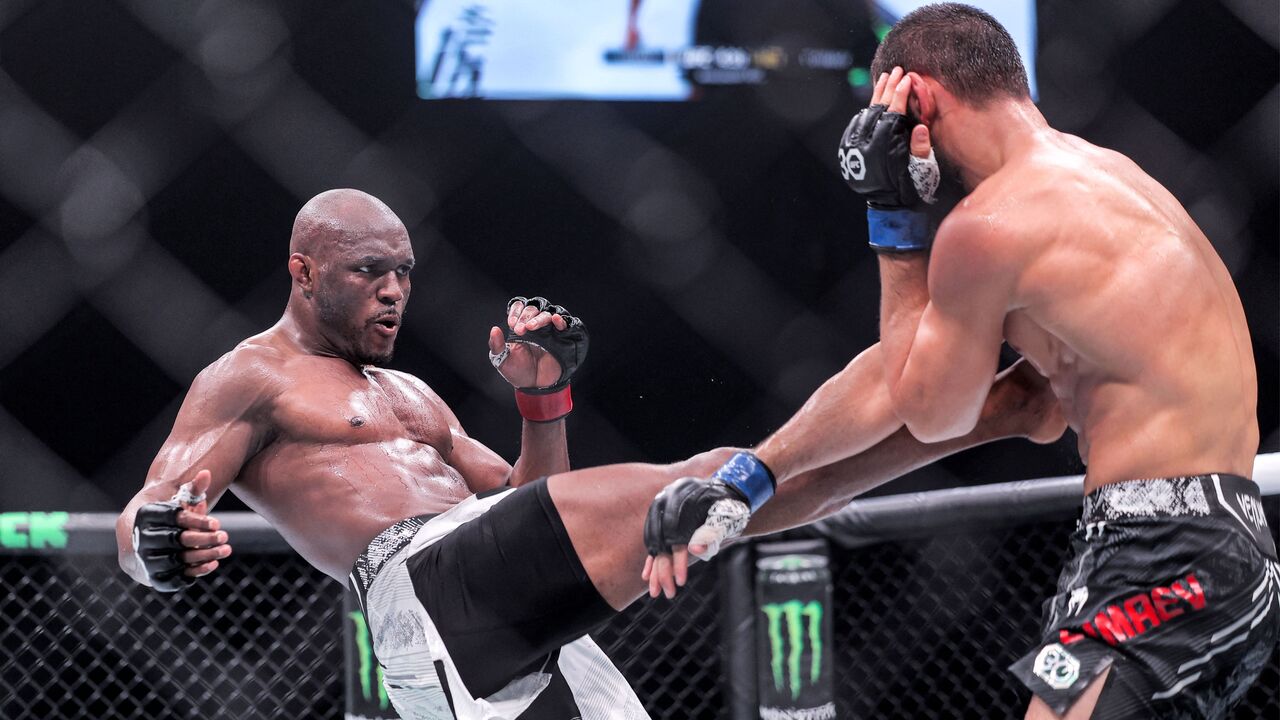 There were a lot of questions surrounding Usman's career – and where he stood as a contender – heading into his fight with Chimaev.
Despite coming up short, Usman managed to answer many of them in a positive way.
Winning two of three rounds on one judge's scorecard against someone of Chimaev's caliber – after having only 10 days to get ready and in a heavier weight class – is a good sign for Usman. It's clear that "The Nigerian Nightmare" has a lot left in the tank.
He may not be in his prime anymore (as mentioned, head-kick knockout losses sure seem to take a lot out of you), but that's not saying a whole lot for someone who used to be the very best in the world. Usman can likely still contend for championships at whichever weight he chooses.