The news cycle in mixed martial arts never fails to be wild and unexpected.
It was approaching the middle of the night on the East Coast early Wednesday, and UFC president Dana White dropped a bombshell on social media: Jon Jones had suffered a torn pectoral tendon in training and was out of his UFC 295 heavyweight title defense against Stipe Miocic. Jones, who was scheduled to headline the promotion's 30th anniversary event at Madison Square Garden event Nov. 11 in New York, is expected to be out of action for eight months.
In that fight's place – Miocic was taken off the card, too – top contenders Sergei Pavlovich and Tom Aspinall will square off for the interim heavyweight belt in the co-main event. Pavlovich had been training to be the backup for Jones-Miocic, while Aspinall hadn't been preparing for a fight. UFC 295's original co-feature, Jiri Prochazka versus Alex Pereira for the vacant light heavyweight championship, will now serve as the main event.
Pavlovich-Aspinall – a matchup between two of the best young heavyweights in the sport – replacing Jones-Miocic – a legacy fight between the MMA GOAT and the UFC heavyweight GOAT – is huge news. But what does this mean for the heavyweight division? Let's make sense of it all.
Comparing Pavlovich-Aspinall to Jones-Miocic
For starters, there is a genuine argument to be made that Pavlovich-Aspinall is the better fight.
Pavlovich has won six straight fights, all by first-round knockout. And he beat top competition throughout that stretch: Curtis Blaydes, Tai Tuivasa, Derrick Lewis, and Shamil Abdurakhimov are among his victims. The 31-year-old Russian is an absolute monster on the feet, and with solid takedown defense, he's a problem for anybody.
Aspinall has won nine of his last 10 bouts, which includes a 6-1 record in the Octagon. His only blemish in the last seven years is a 15-second injury loss to Blaydes in 2022. Aspinall, of England, is very well-rounded. He impressed with a first-round knockout of Marcin Tybura in his last outing, but he generally uses grappling to submit opponents.
Along with Ciryl Gane and Jailton Almeida, Pavlovich and Aspinall are expected to be significant parts of the UFC heavyweight division for years to come.
But of course, they're not household names. Jones-Miocic was the much bigger fight. It was a genuine blockbuster, the greatest light heavyweight – and arguably greatest fighter, period – defending his belt against the most accomplished UFC heavyweight ever. In that regard, this is a major hit to the event. The promotion will likely have to adjust ticket prices, among other things.
But again, Jones-Miocic was a legacy fight more than anything else – a dream matchup a few years too late. Miocic hasn't fought since losing the heavyweight title to Francis Ngannou in March 2021. He is 41 years old and works full time as a firefighter paramedic in Ohio. Many thought Jones would defeat Miocic, who seems to be all but retired from MMA, fairly easily. When it comes to heavyweight relevancy, Pavlovich-Aspinall is hard to beat.
Why isn't Miocic still fighting at UFC 295?
White's announcement that Jones was off UFC 295 glossed over the fact that Miocic also won't compete at the event. Usually in a situation like this, someone like Pavlovich or Aspinall would get the call to fill in against Miocic.
This likely goes back to Miocic having one foot out the door. He hasn't stepped into the cage in more than two-and-a-half years. Since the Ngannou loss, Miocic has essentially been waiting for the UFC to give him a big fight; he has no interest in fighting otherwise. With Jones getting hurt, a last-minute interim title bout against a dangerous, young opponent like Pavlovich or Aspinall wasn't going to cut it for Miocic. He would have a lot more to lose against those guys.
Miocic is the biggest loser in this whole situation. The UFC gave him a title shot and now it has disappeared, at least for now. And time is ticking. He will likely be 42 years old by the time Jones is healthy. But Miocic appears to be OK with waiting another eight months – not all that long when you've been waiting almost three years – for Jones to recover under the assumption they'll rebook that fight.
The interim title dilemma, and what could happen after Nov. 11
When a fighter wins an interim belt in the UFC, they earn the right to challenge the real champion next. Or at least that's how it's supposed to go. Of course, that's not always how it works in practice – just ask Colby Covington or Tony Ferguson.
It seems quite obvious that the Pavlovich-Aspinall winner won't be next in line to challenge Jones for the undisputed heavyweight belt, and that the UFC simply needed a second title fight for its big MSG show.
Sources told ESPN's Marc Raimondi on Wednesday that the UFC hopes to rebook Jones-Miocic for a big card in 2024 when Jones has recovered. This isn't a surprise. Jones-Miocic is the bigger fight now and still will be next year. Plus, Jones likely has no interest in fighting whoever the interim champion is – it's not just Miocic who doesn't want those fights. This is where things get interesting.
Here's a pretty realistic scenario. Either Pavlovich or Aspinall will become interim heavyweight champion in two weeks. That much we know for sure – at least hopefully. The winner might have time to make a rare interim title defense in the first half of 2024, around the time that Jones is fully recovered and ready to fight Miocic. The fight between Jones and Miocic may headline the UFC's annual International Fight Week in July. (UFC 300 would be ideal, but based on Jones' initial recovery timeline, that seems too early.)
And then – wait for it – Jones and Miocic could both announce their retirements after the fight. Jones has teased he may hang up the gloves if he beats Miocic. Jones is getting up there in age himself and has nothing else to prove. And Miocic, again, has been in retirement mode for the last two-and-a-half years. Miocic retiring after one more trip to the Octagon to face Jones seems all but guaranteed.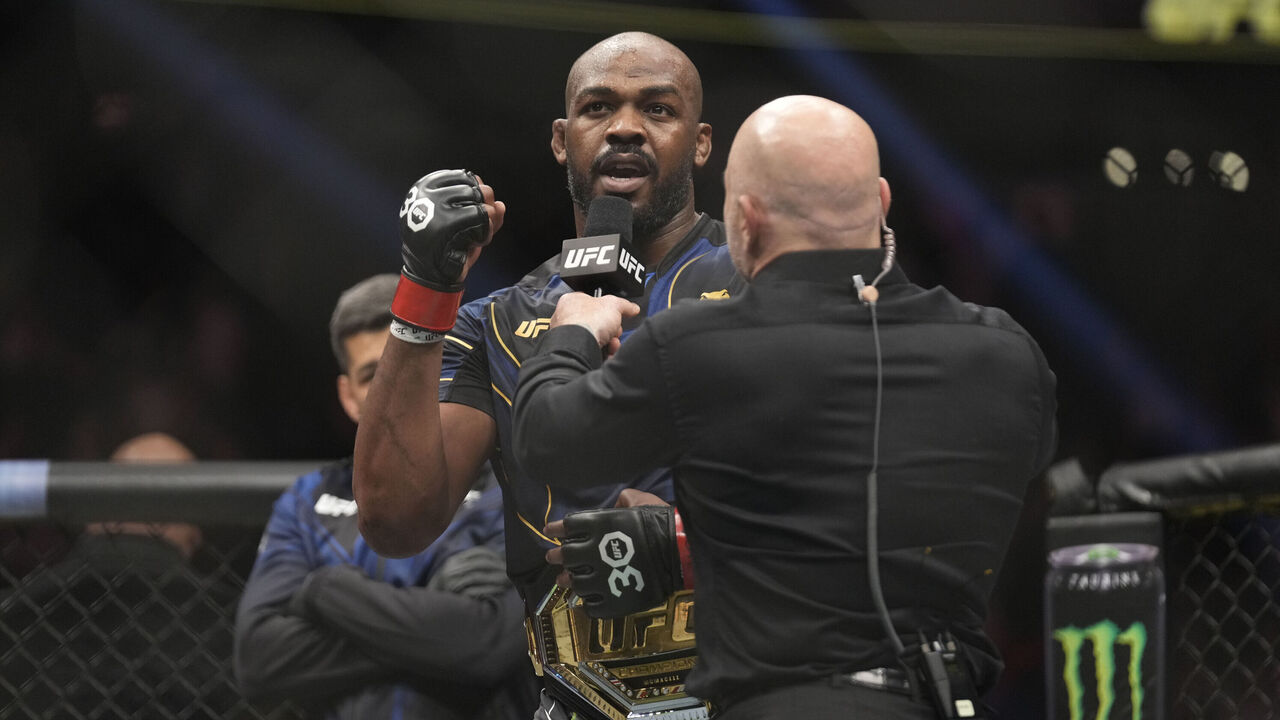 This situation is very similar to Michael Bisping defending the UFC middleweight title against Georges St-Pierre in 2017. At the time, Robert Whittaker was the interim champion. But the UFC wanted to give St-Pierre a shot at becoming a two-division champion. And it was a big fight. St-Pierre never fought again after beating Bisping – he relinquished the title one month later – and Bisping fought once more. Whittaker was quickly promoted to undisputed champion.
That's what could happen here. The winner between Pavlovich and Aspinall may not get a title shot against Jones, but they may end up as the undisputed heavyweight champion within the next year anyway.
Is there a chance Jones-Miocic never happens?
Yes, there is. A small chance, to be clear, but there's certainly a chance that Jones and Miocic will never fight. Jones suffered a fairly severe injury and needs surgery. He's 36 years old. Maybe Jones' recovery goes well, but maybe it'll be longer than eight months.
Miocic could decide to retire at any moment. That seems unlikely because one last massive payday is awaiting him in MMA. He should be fine to wait for Jones. But again, he doesn't need to fight. Maybe he'll get tired of waiting.
Anytime a fight gets canceled, there's never a guarantee it'll be rebooked. As we've seen with Khabib Nurmagomedov and Tony Ferguson, you never know when the window closes.