Despite it being his first appearance at the ATP Finals, Alex Corretja was unrivalled during an intense week in Hanover in 1998.
The Spaniard, who is now an expert for Eurosport, explained how that victory was the high point of his career and changed his life in every way.
He also predicted a great future for his compatriot Carlos Alcaraz in the competition as he competes in this year's edition in Turin.
I am amazed that it has been 25 years. I was 24 at the time, now I'm 49! It is incredible. It is the first time in my life that I have thought: 'This is going too fast.'
Next year, if all goes well, I will be 50 years old. Did I really win the ATP Finals 25 years ago? In my head, it feels like I won it 12-15 years ago, that is my perception.
The first thing that comes straight away is a huge feeling of relief. Winning the ATP Finals was something I dreamed of and hoped for. I fought so much to one day just be in that position and feel like I am the best, I am the world champion.
That day I proved to myself that I could achieve what I dreamed of when I was 10 years old – lifting a big trophy. Even 25 years later, it still feels unreal. But thinking about it is really moving, I almost feel dizzy. This feeling of pure joy and fulfilment and a certain calmness and relief.
I feel like I had a career that gives me satisfaction thanks to this title. My career was unbelievable, I don't compare it with anyone else's.
I remember that in the days before the tournament I had faith in my heart. I felt that it was my moment. The night before we started the tournament, my coach Javier Duarte came into my room and said: 'I want to chat with you'.
He said: 'Are you ready for this week?' And I'm like: 'yeah, I'm ready.' He added: 'No, I mean, are you ready to win the tournament?' I'm like: 'Well, [Pete] Sampras, [Andre] Agassi, [Yevgeny] Kafelnikov and [Carlos] Moya are playing in this tournament, so…'
He continued: 'You are ready to do it. You only need to believe until the end. No matter what happens in the round robin, the semis or the final, you will get through it. You can make it because you are ready. This is your moment.'
He closed the door and left. I stared into the void. I had goosebumps, and I have some today just thinking about it. Then I thought: 'F***, I'm ready to win this tournament.'
Mentally, I was ready. Physically, I was ready. I had improved so much on hard courts and indoors. In 1998, I won Dubai, then I beat Agassi in the final in Indianapolis. I also won in Lyon, my first indoor title.
I went through a weird round-robin phase where Agassi retired in the middle of our match, and I lost to Tim Henman and thought I was out. But Albert Costa, who was on vacation, replaced Marcelo Rios and I secured my seat in the semis.
There I faced Sampras. I lost against him 7-6 in the fifth set two years earlier at the US Open. I had match point that day after I led 4-1 in the fifth set, so going into the match I knew I could hurt him a lot, even if indoors was not my best surface. I was going to play toe-to-toe against him. I saved match point at 6-5 when he missed the return.
From that point I told myself, 'Okay, I'm ready.' When we went into the tie-break of the third set, the only thing that mattered to me was: 'I'm not going to make my life complicated because I'm not going to hit an ace, I'm going to put every first serve in, I'm going to kick out to his backhand. I'll try to win maybe one point out of three on his serve.'
At 6-3 up, with a break in the tie-break, I'm like: 'I just need to go out, kick out wide, and then get my forehand.' I did and I won.
When I arrived at my locker, all my friends and family, my brothers, were jumping and celebrating, because at that tournament we each had a private changing room.
I kicked them out. I said: 'Remember what happened at Roland-Garros. We reached the final, and I was happy enough with that. But I don't want to be a finalist. I want to be the champion. I have the toughest match of my life tomorrow.'
They went away. I focused and I said: 'This will be my day. No matter what happens, I'm going to fight until the end.' I stayed in the hotel, resting, recovering and had dinner in the room and woke up thinking only about the match, totally focused. I didn't want to know anything about the world, it was my moment.
The final was a big deal for Moya and me, two Spanish guys meeting again after the final of Roland-Garros, which he won 6-3 7-5 6-3.
Being in the final of the ATP Finals was nearly a joke for us because we didn't have indoor courts to practise on back in Spain. I remember we were practising in a gym where they built a synthetic court for us, just to practise a few days before, because we didn't have anywhere to play.
Moreover, Moya was probably the toughest, worst opponent I could face. I felt like I had no weapons to hurt him. Even if I played solidly, it was not enough. I needed to have a bigger weapon, maybe a bigger forehand.
I couldn't hit any winners against him. The only way I could beat him was to see if physically I could take him to a very long match and see if at some point, maybe tactically, I'm going to confuse him.
Playing a lot of backhand slices, backhand into his backhand, because he was standing quite high up, and then with my forehand, give a little bit of height and variation with my serve, maybe put a little bit of pressure with my return from time to time.
I would be curious to know how many winners I hit that day. Maybe passing shots, yes, but where I'm stepping into the middle of the court to hit winners? For sure, not many.
I hadn't won a single set against him all year! He beat me in Monte Carlo, 6-3 6-2, in the final of Roland-Garros, in the US Open, 7-6 7-5 6-3, and I soon found myself two sets down in the final.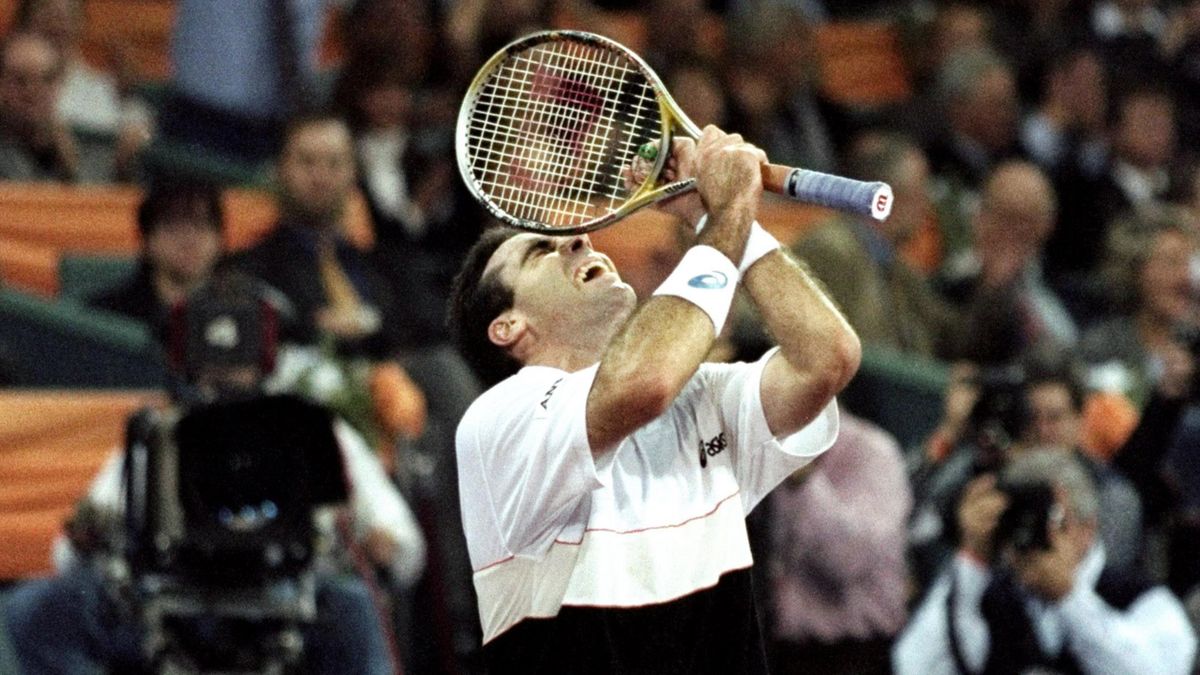 After 10 straight sets lost to Moya, I still felt I was going to win. I felt like it did not matter. I thought: 'It is destiny. It's meant to be that I'm going to be the champion.'
I fought hard, and I believed in myself. I kept on trying to apply the right tactics. I told myself that the only way I had to beat Moya was to move him from side to side. I was going to see what I could do to burn him out, because I didn't have as good a serve as him, or as good a forehand. I'm not as tall, I'm not as strong.
I just needed to see if I could move him around and see if I had a chance. At 5-5 in the third set, he got a break point! I had to go on and on and on until I won that set. Then I won the fourth as well. In the fifth, I was down a break, then I served for the match, but he broke my serve.
I end up winning 7-5 and I threw myself on the ground without knowing what had happened. It was such a powerful feeling – after so many years invested, it was all worth it. It was true what I had been told – that one day I could win a major title.
Sometimes people ask me: would you exchange that title for a Grand Slam? I think I would say no. I truly believe it makes me a little bit different in Spanish tennis history, because winning the ATP Finals is something that has happened only twice in Spain; me and Manolo Orantes back in 1976. It has never happened again.
Winning Roland-Garros is almost more routine in Spain. When you win in Paris, people are like: 'Of course he won Roland-Garros,' but winning the ATP Finals set me apart. Still today, some people when they see me will come and say 'Hey, how are you, Maestro?'
I feel like the ATP Finals was the cherry on top of the nice cake of my career. You realise this is what you really needed to say, 'I had my career', that I have the ATP Finals title under my belt.
I did not need that title for my ego. It is not like I go walking around the street thinking 'I was the ATP Finals champion 25 years ago.' But it is something that gives me peace. I feel like everything I did in my life on the tennis court came together that day, and my name might remain there forever.
One day, a third Spaniard will win the ATP Finals. Probably Carlitos Alcaraz. From the outside, the tournament is still not the most favourable for Spaniards, but I'm sure that Carlitos can do it.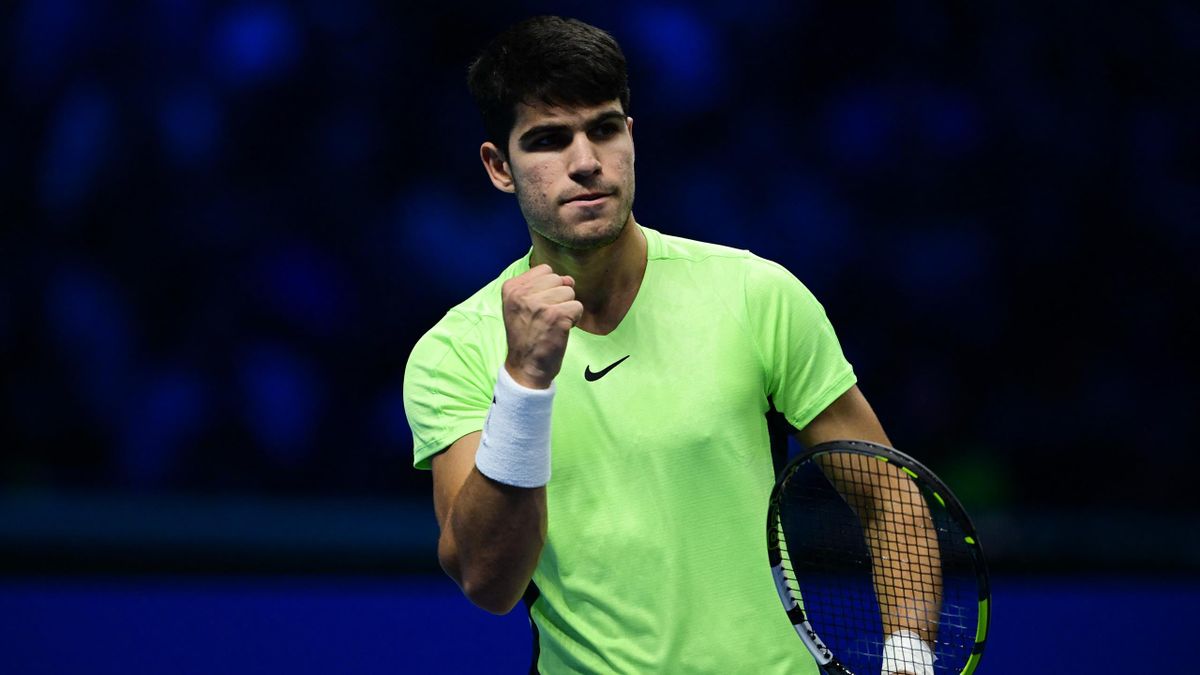 With Rafa Nadal, I felt that it was going to be a very difficult title to win, because of his style of play and how he arrived at the end of the year.
With Alcaraz, I have the feeling that he is going to win it at some point, I'm sure. Alcaraz is destined to win the ATP Finals, because the way he is he fits perfectly with the event – all the matches are big, with 15,000 people supporting, and in prime time.
Stream top tennis action, including the 2024 Australian Open, live on
discovery+
, the Eurosport app and at eurosport.com