It's rare to see something new in a nine-team league, but the 110th Grey Cup features a first-time matchup: the Montreal Alouettes versus the Winnipeg Blue Bombers.
In addition to being the first original Grey Cup clash since 2009 (Montreal-Saskatchewan), it's the first time any two teams from these cities will battle for Lord Grey's mug, including the pre-CFL years when smaller leagues competed. The Bombers and Als only met in the playoffs twice while Winnipeg was in the East Division, most recently in 2007.
The matchup's uniqueness, combined with Montreal's unexpected presence, adds intrigue to this year's game. Instead of the anticipated heavyweight battle with Toronto, the Blue Bombers' dynasty hinges on beating another heavy underdog. The Alouettes, meanwhile, head into Hamilton with a chip on their shoulder and little fear.
Here's everything you need to know about the 110th Grey Cup.
The basics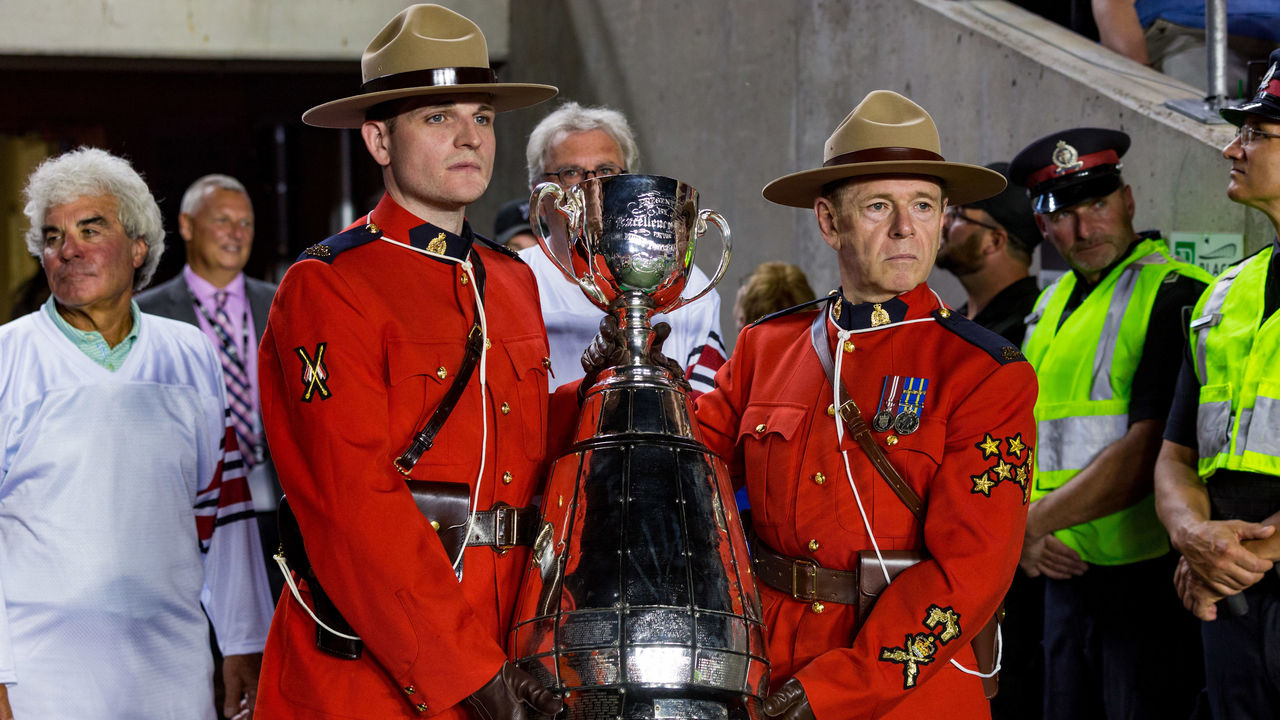 When: Sunday, Nov. 19 at 6 p.m. ET
Where: Tim Hortons Field in Hamilton, Ontario (12th Grey Cup hosted by Hamilton, second at THF)
Who: Alouettes (19th Grey Cup appearance) vs. Blue Bombers (28th)
TV: TSN; RDS (French); CFL+ (international)
Line: Winnipeg -380
Spread: Winnipeg -8.0
Over/Under: 46.5 points
How they got here
Alouettes: The year got off to a rocky start when the CFL assumed ownership of the Als in mid-February (billionaire Pierre Karl Peladeau bought the club in March), leading to several big-name stars leaving in free agency. On the field, the new-look Als won five of their first nine before dropping four straight to fall below .500. Then something clicked, and they finished the regular season on a five-game win streak. After stomping Hamilton at home in the East semifinal, the Als marched into Toronto and stunned the record-setting Argos with a dominant defensive performance to reach their first Grey Cup game since 2010, when the great Anthony Calvillo – now their offensive coordinator – was still under center.
Blue Bombers: It was more of the same from Mike O'Shea's machine. Zach Collaros threw for a career-high 4,263 yards and led the league in both touchdown passes (33) and efficiency rating (112.8); rushing champion Brady Oliveira ran for over 1,500 yards and racked up over 2,000 yards from scrimmage; and the defense continued its dominance, allowing a league-low 377 points. Winnipeg held off a very good BC team to win the West Division, then beat the Lions in the West final despite injuries to Dalton Schoen and Adam Bighill. The Blue Bombers are the first team to reach four straight Grey Cup games since Edmonton's dynasty played in five straight from 1978-82.
Previous meetings
Both of the regular-season meetings were one-sided Winnipeg victories. The Blue Bombers won the first game, a rainy Canada Day affair that was delayed two hours by lightning, 17-3 at Molson Stadium in Montreal, then limited the Alouettes to 184 total offensive yards in a 47-17 Week 12 victory. Winnipeg held Montreal without an offensive touchdown in both meetings.
Storylines to follow
Dangerous 'dogs
The Alouettes are obvious underdogs in this clash. On the surface, it feels like an even bigger mismatch despite Montreal's 11-7 record, and the Als seem aware of this. After their win on Saturday, quarterback Cody Fajardo characterized his team as "a band of misfit toys."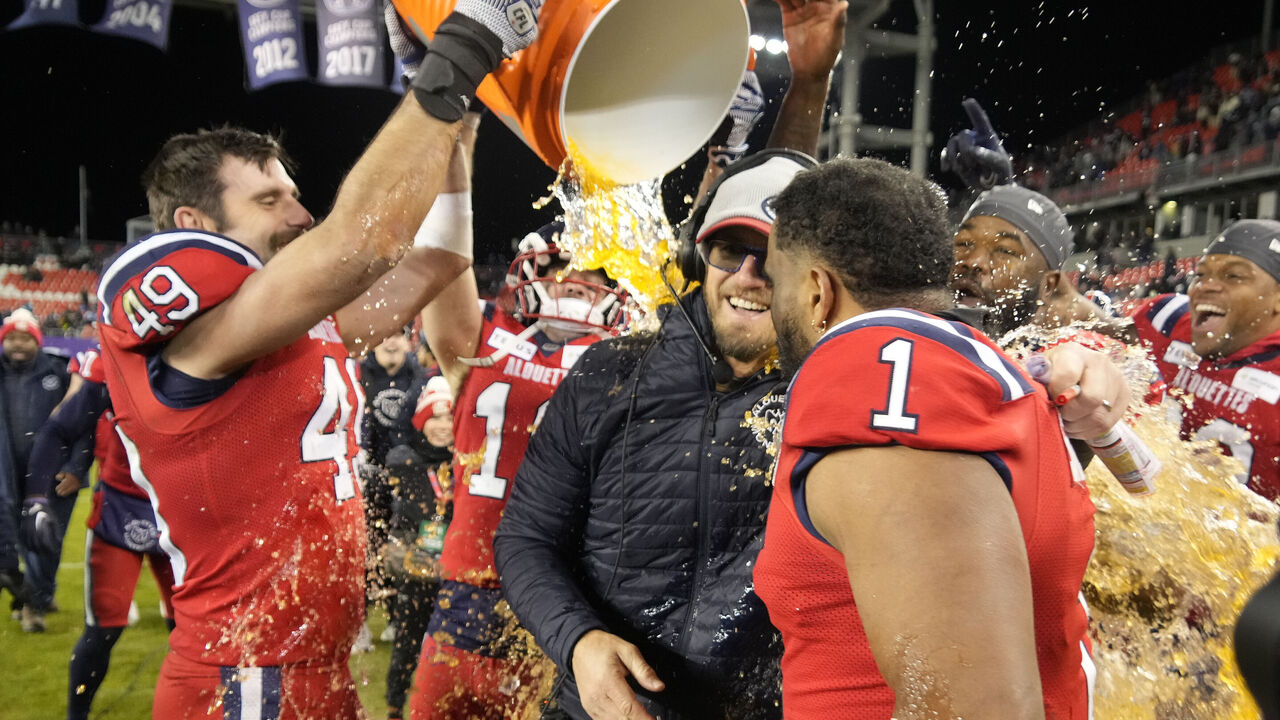 But this group of misfits happens to be extremely dangerous right now. Noel Thorpe's defense was clinical during Saturday's dismantling of the 16-2 Argos, forcing nine turnovers, including four INTs, and twice stopping Toronto on third-down QB sneaks. The Als understandably enter this game with a huge amount of confidence after pulling off one of the biggest upsets in CFL history.
For the Blue Bombers, it's now time to use lessons learned from last year's upset Grey Cup loss. They're once again the clearly superior team, especially on offense, but nothing's guaranteed in a one-and-done game. Underdogs who aren't supposed to be in a championship game can sometimes be the most dangerous opponent. The onus is on Winnipeg to show that what happened in Regina last fall was a fluke, but it won't be as easy as some would like to believe.
Fajardo's moment
Fajardo does own one ring from his days as Ricky Ray's backup in Toronto, but Sunday will mark his first career Grey Cup start. After being stopped by O'Shea's Blue Bombers twice in the West final while with the Roughriders, he finally got over the hump after moving to Quebec alongside his head coach and fellow Saskatchewan exile Jason Maas. Now Fajardo has a chance to rewrite the narrative, and it comes against his personal white whale.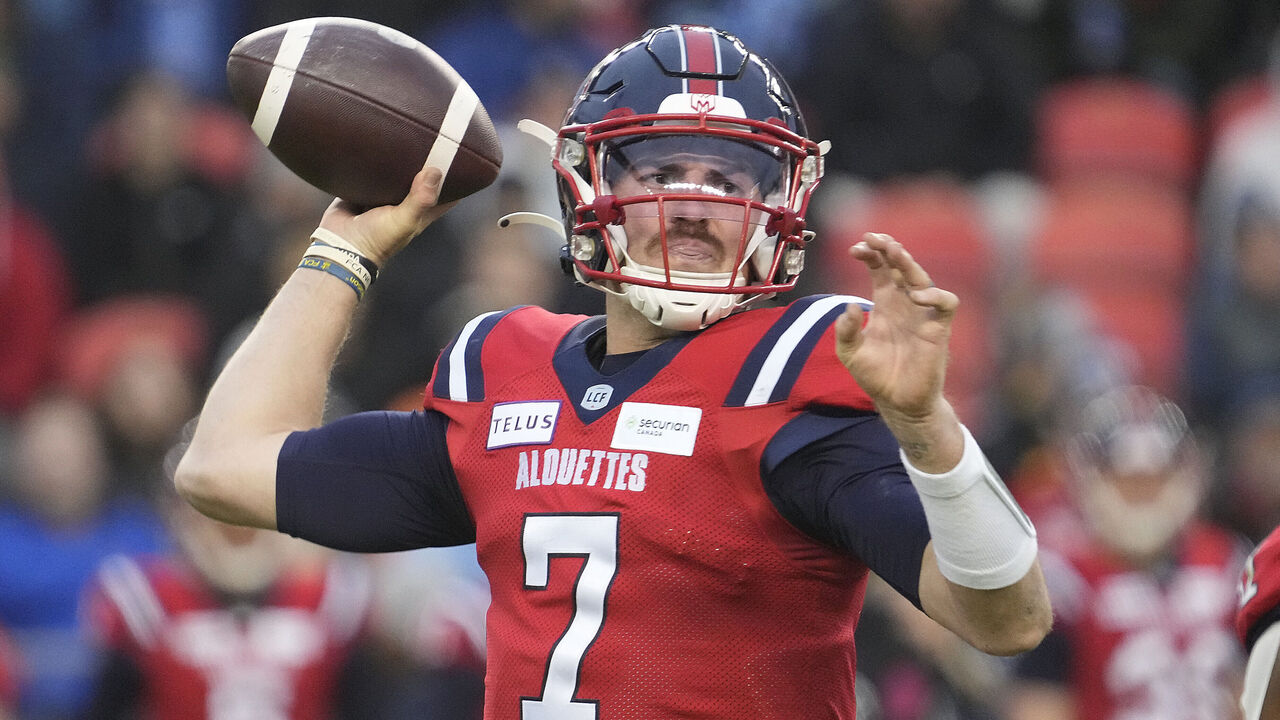 While Fajardo's been good for the Alouettes, he hasn't quite been great, and some question marks remain. He finished fifth in the CFL in passing, but only threw two more touchdowns (14) than interceptions (12). He threw for over 300 yards in only two of 18 regular-season games, and passed for multiple TDs only three times (including one playoff game). Even during the dominant East final win, the Argos managed to hold him to 175 passing yards and one major. Fajardo did what he needed to do against Toronto, especially during a long fourth-quarter drive that killed any lingering comeback threat, but defense carried the Alouettes into the Grey Cup.
If they're going to pull this off, Fajardo will need to be front and center Sunday. He has the ability to be a championship QB, but he's got to dig deep find that next gear. Defense may win rings, but it can't carry the full load every week in an offense-first football league, especially for an underdog.
Defense rules
Those who enjoy great defense should be thrilled with this matchup. Winnipeg allowed the fewest points, opponents' offensive touchdowns, and opponents' passing TDs in the CFL this year, with Montreal a close second in all three categories. The Blue Bombers did that despite tallying only 13 interceptions.
On the other side, the Alouettes' underappreciated D (before last week, at least) forced more turnovers than all but one team. Their game-changing secondary, led by Most Outstanding Canadian nominee Marc-Antoine Dequoy, picked off 22 passes. Even in their two lopsided regular-season losses to Winnipeg, this unit made life tough on Collaros, picking him off three times and returning two of those for TDs during that 30-point Week 12 loss. It's not a group to trifle with.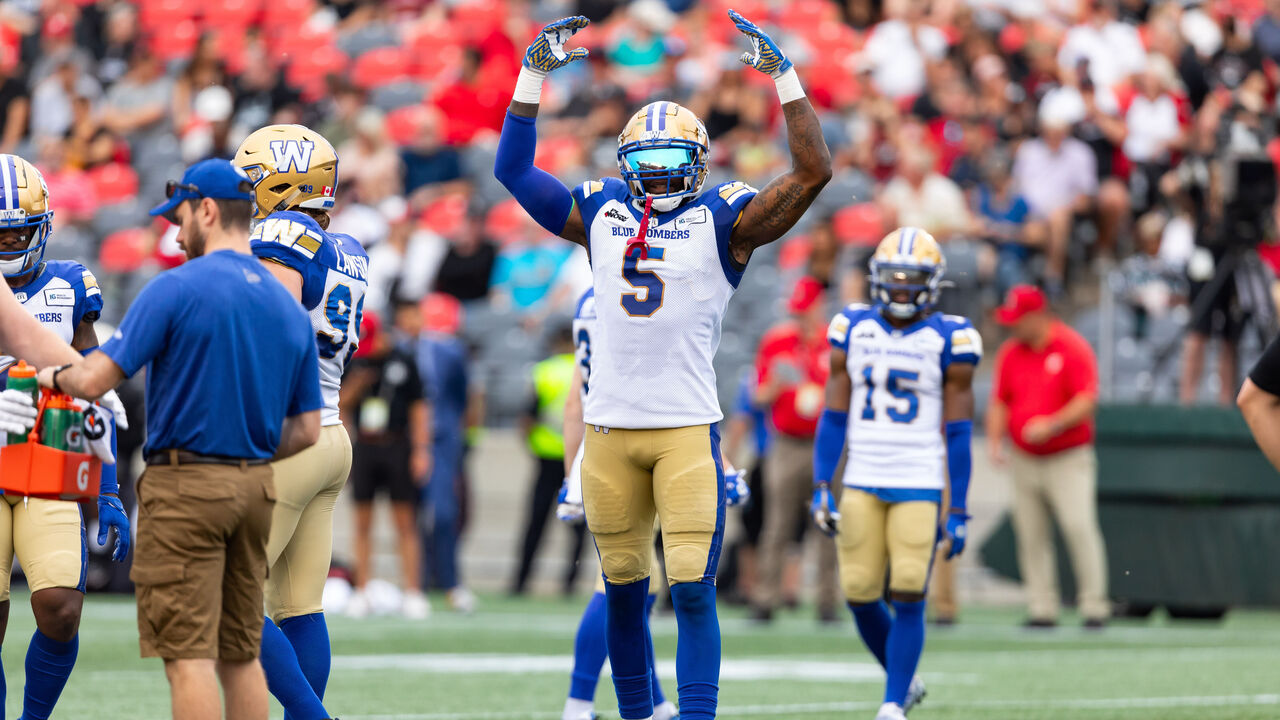 There are a few separating factors, though, most notably in the trenches. The Alouettes' 41 sacks were tied for sixth in the CFL, while Winnipeg once again feasted on QBs with 53. Montreal's sack problem extends to the O-line, which allowed 61 sacks during the regular season and another seven in the East final. Willie Jefferson and Jackson Jeffcoat could have a field day against this Alouettes line.
The Blue Bombers also excel at preventing the run, and have the tools to take Montreal's star tailback William Stanback out of the game completely. Stanback was a non-factor in both regular-season games.
Can Oliveira be contained?
Oliveira playing a major role in the Grey Cup was a given no matter who the Bombers matched up against, but he's an even more significant factor because the Alouettes aren't the greatest against the run.
Of the four participants in this year's division finals, Montreal allowed the most opponents' rush yards (1,978) and average rush yards per game (109.9) during the regular season. This should have the Most Outstanding Canadian, whose league-leading 1,534 rushing yards were the most in a CFL season since 2013, licking his chops. He's already run rampant over the Alouettes this year, collecting 239 total yards while averaging over six yards a carry during their two regular-season meetings.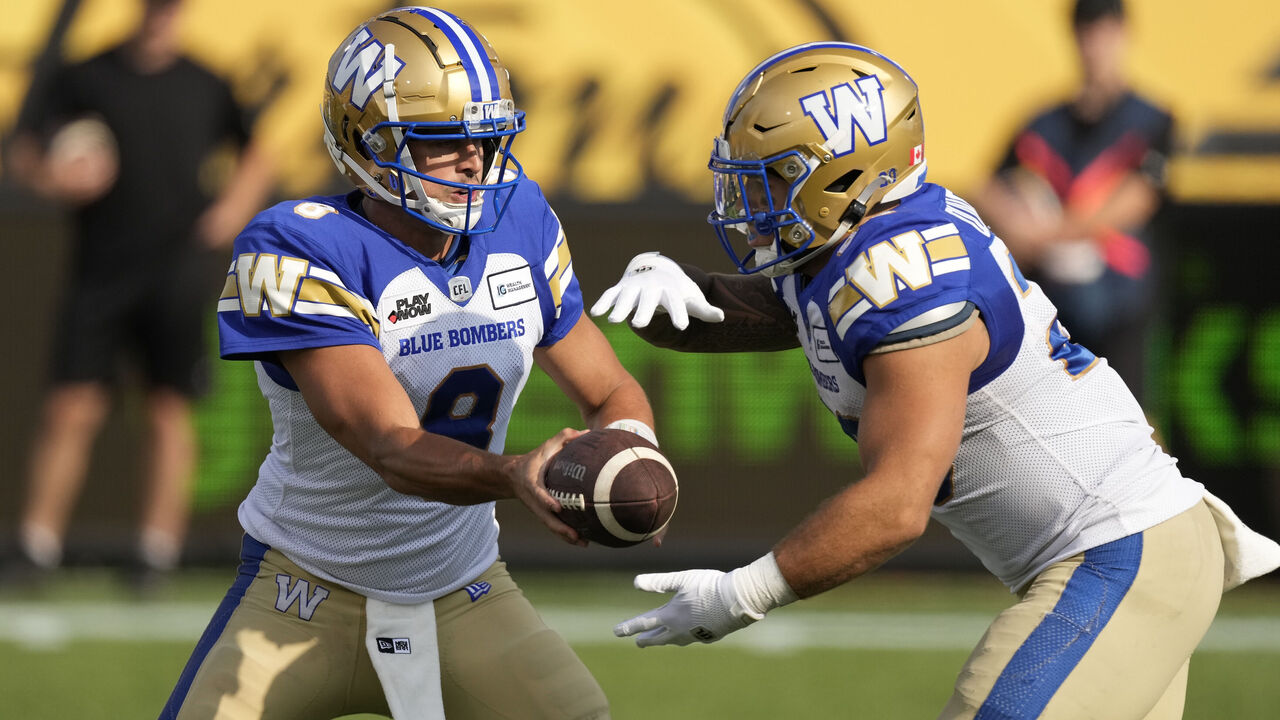 It's worth noting that Oliveira did all that damage to the Alouettes before they signed linebacker Darnell Sankey, last year's leader in defensive tackles, in September. Sankey's made a major impact after returning from the XFL, collecting 31 defensive tackles in six regular-season games and another 14 in the playoffs. His presence between fellow LBs Reggie Stubblefield and East All-Star Tyrice Beverette allows the Als to be creative and deploy some schemes Oliveira may not have seen from them earlier in the year.
All that said, Sankey isn't necessarily tilting the scales on his own. Oliveira is dominant, and will likely get his yards even if the Als are a bit better equipped for him this time. The question is whether or not they can at least slow him down somewhat. If not, it could be lights out in a hurry.
Key Bombers injuries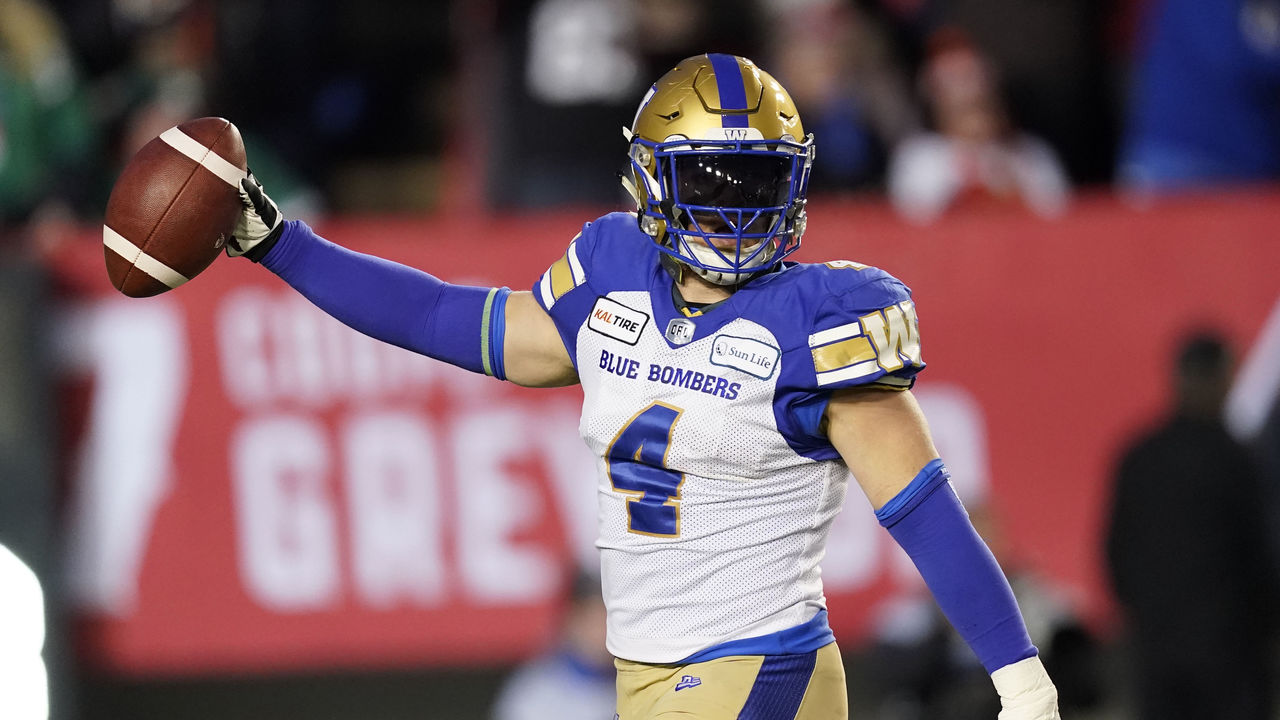 Three of Winnipeg's most important weapons are still questionable for Sunday. Wideouts Schoen and Nic Demski both missed the West final with ankle injuries, while feared linebacker Bighill left with a calf injury in the first quarter and arrived in Hamilton wearing a walking boot. None participated in practice this week.
O'Shea hasn't ruled any of them out of the big game yet, which is good news for the Blue Bombers, but their absences would certainly be significant and could alter game plans for both sides. The Blue Bombers' offense has survived without Schoen and Demski, and has enough weapons to do it again. Losing Bighill, the team's leading tackler, may be another story, although little-used Brian Cole filled in admirably against BC, collecting three tackles and a sack.
Prediction
It's tempting to pick the Alouettes after watching their red-hot defense dismantle the Argos. They shouldn't be underestimated, and they will keep it close. But the veteran Blue Bombers won't let last year's upset happen again. Blue Bombers 24, Alouettes 14