The Canadian Football League handed out its 2023 awards on Thursday in Niagara Falls.
Before revealing the evening's big winners, CFL commissioner Randy Ambrosie announced that the league is renaming its Most Outstanding Player award to honor the legendary George Reed, who died last month at age 83. Reed, considered one of the greatest players in CFL history, retired in 1975 as the league's all-time leading rusher.
The event also had a distinct double-blue feel to it, as five Toronto Argonauts walked away with hardware following their historic season.
Here's a look at all of the night's big winners:
George Reed Most Outstanding Player: Chad Kelly, Argos
Toronto Argonauts quarterback Chad Kelly was named the CFL's Most Outstanding Player in his first full season as a starter. Kelly received 39 of 61 votes to earn the honor over Winnipeg Blue Bombers running back Brady Oliveira.
Kelly set the league on fire after taking over under center for the Argos following McLeod Bethel-Thompson's departure. The 29-year-old passed for 4,123 yards, 23 touchdowns, and 12 interceptions, along with a 68.5% completion percentage. His 109.6 efficiency rating was second in the league behind Zach Collaros. Kelly also rushed for 248 yards and eight touchdowns.
Behind Kelly, Toronto tied a CFL record with 16 wins and clinched the East Division in September. The Boatmen were 15-1 in Kelly's starts – their lone loss came after he left a game in Calgary due to injury.
Despite leading the Argos' dramatic fourth-quarter comeback to win last year's Grey Cup in relief of an injured Bethel-Thompson, the Buffalo native came into this season with only one CFL start to his name. The quarterback was a college star at Ole Miss but only took one NFL snap during his brief career south of the border.
Kelly is the eighth Argos player to be named MOP, and the team's first QB to win it since Damon Allen in 2005.
Most Outstanding Canadian: Brady Oliveira, Blue Bombers
Oliveira, a Winnipeg native, ran away with Most Outstanding Canadian honors over Montreal Alouettes defensive back Marc-Antoine Dequoy.
The 26-year-old ran for 1,534 yards to win his first rushing title, and his nine rushing touchdowns were the most among running backs, and tied for the league lead. Oliveira joined Jon Cornish as only the second Canadian to rush for over 1,500 yards in a season, and his total was the most in the league since Cornish in 2013. He also became the 15th player in CFL history to tally over 2,000 yards from scrimmage.
Oliveira is the 11th Blue Bombers player to win this award, and the first tailback to earn it since his former teammate Andrew Harris in 2017.
Most Outstanding Defensive Player: Mathieu Betts, Lions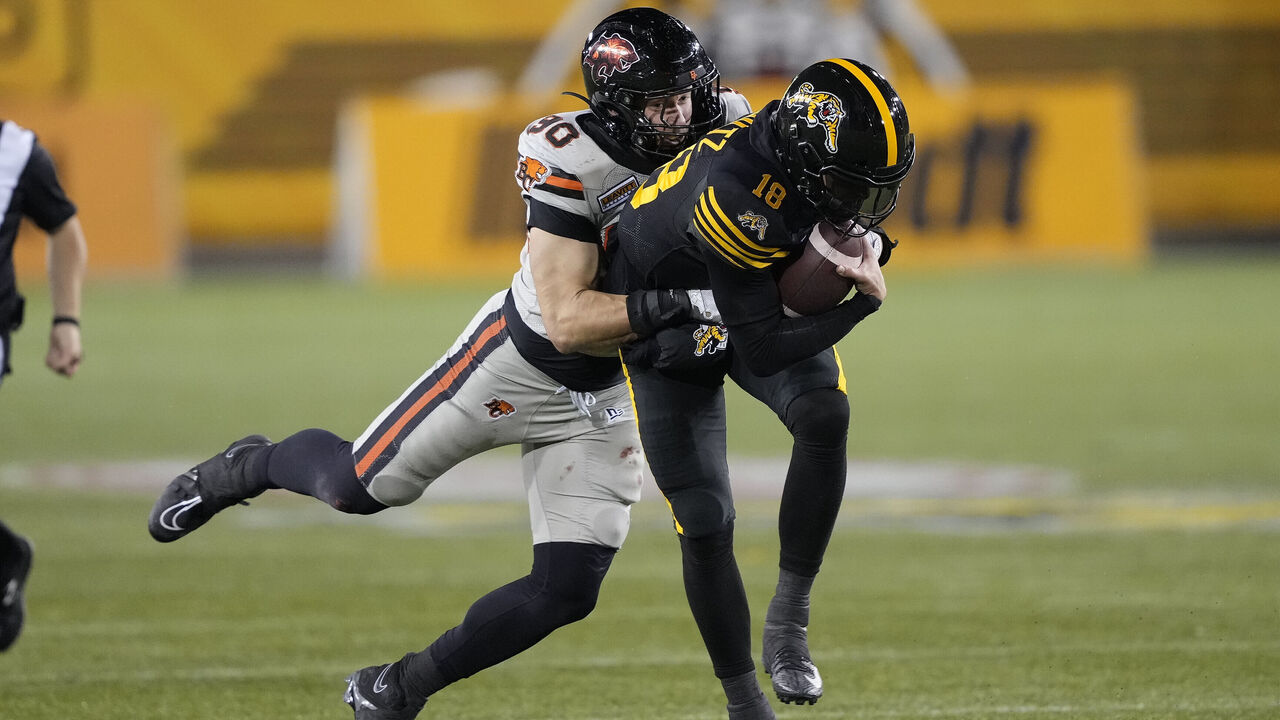 The Montreal native's 18 sacks set a single-season record for a Canadian, and he also tallied 42 tackles and four forced fumbles.
This is the 11th time a Lions player has been named Most Outstanding Defensive Player, by far the most in CFL history. Betts is the first Canadian-born player to win the award since Hall of Famer Brent Johnson took it home with BC in 2006.
Betts defeated East Division nominee Adarius Pickett.
Most Outstanding Rookie: Qwan'tez Stiggers, Argos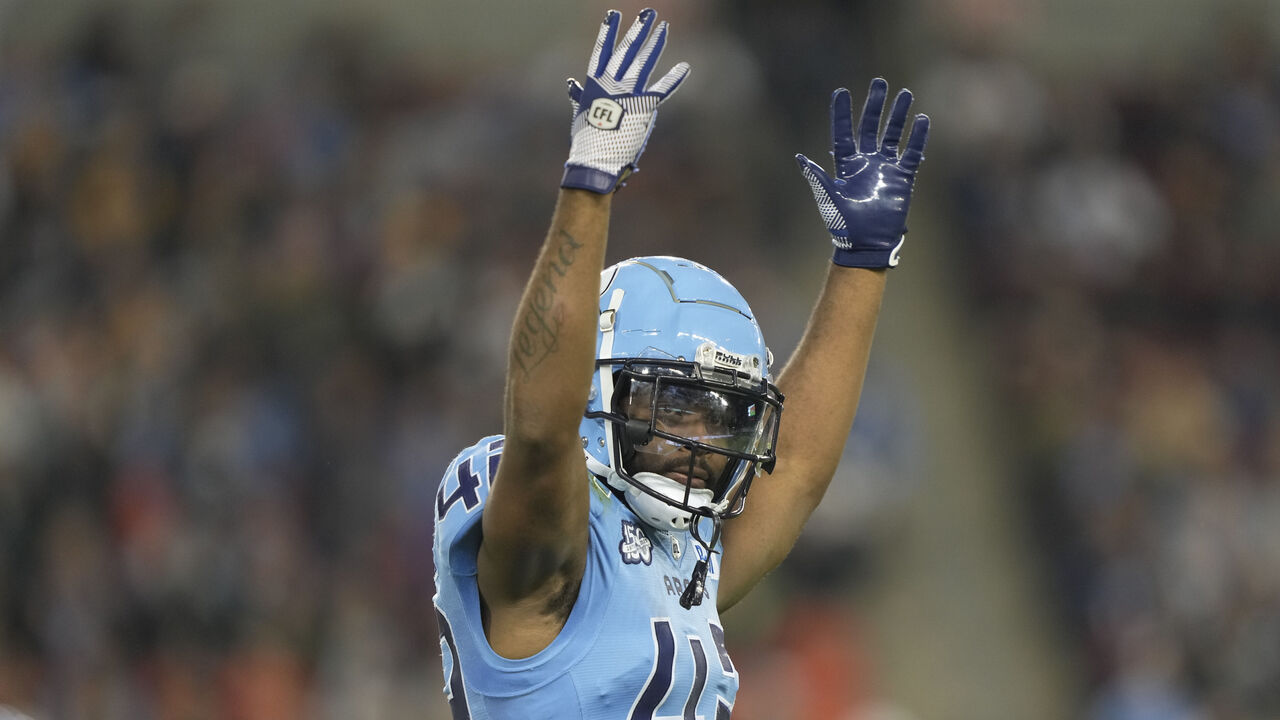 Stiggers finished his debut season with a team-high five interceptions, along with 53 defensive tackles and another three on special teams, earning an East Division All-Star spot.
The 21-year-old graduated from Atlanta's B.E.S.T Academy but left college in 2020 after his father died in a car accident. He spent his first professional season in the Fan Controlled Football league before signing with the Argos this past January.
Stiggers, who beat out Edmonton's Kai Gray, is the fifth Argos rookie to win this award.
Most Outstanding Offensive Lineman: Dejon Allen, Argos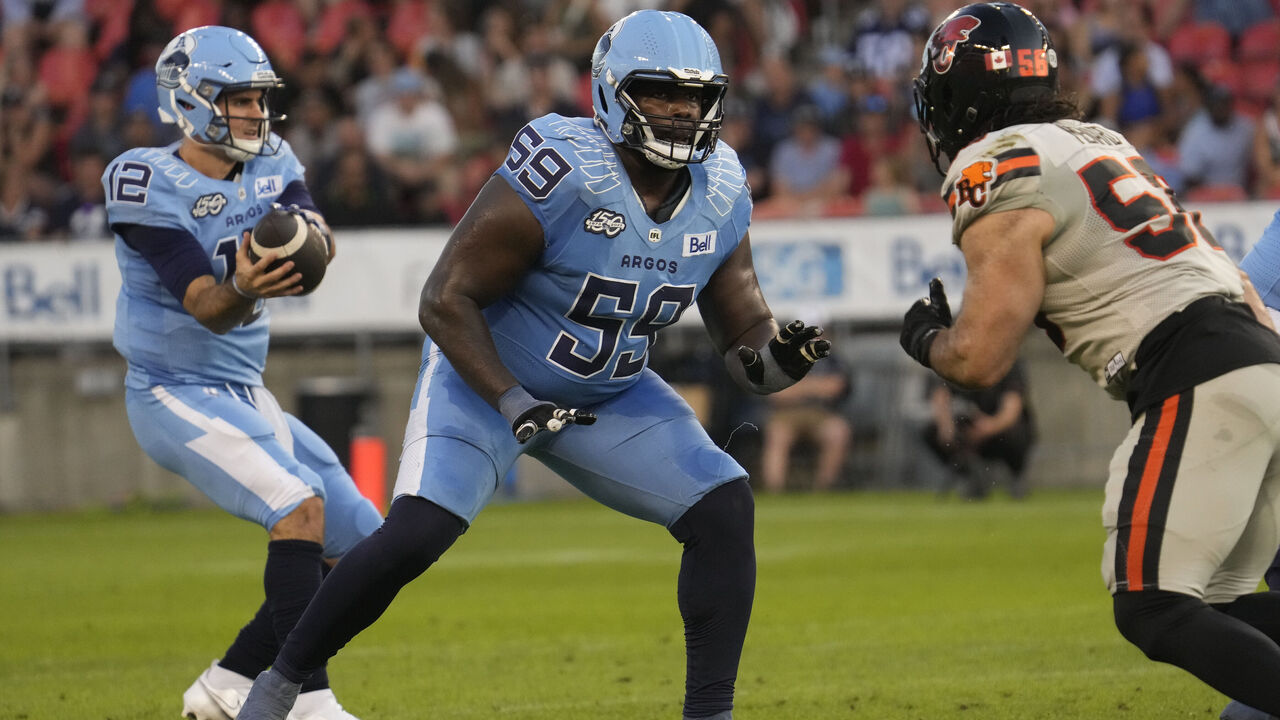 A two-time All-Star, Allen only gave up two sacks as the Argos' right tackle, per Pro Football Focus.
The Hawaii product is just the second Argos lineman to win the award, joining Mike Kiselak, who won it in 1996 and '97. Allen's win also marks only the second time in the last six seasons that this award didn't go to a member of the Winnipeg Blue Bombers' O-line. Bombers lineman Jermarcus Hardrick was this year's runner-up, while Stanley Bryant won it in each of the last two seasons.
Most Outstanding Special Teams Player: Javon Leake, Argos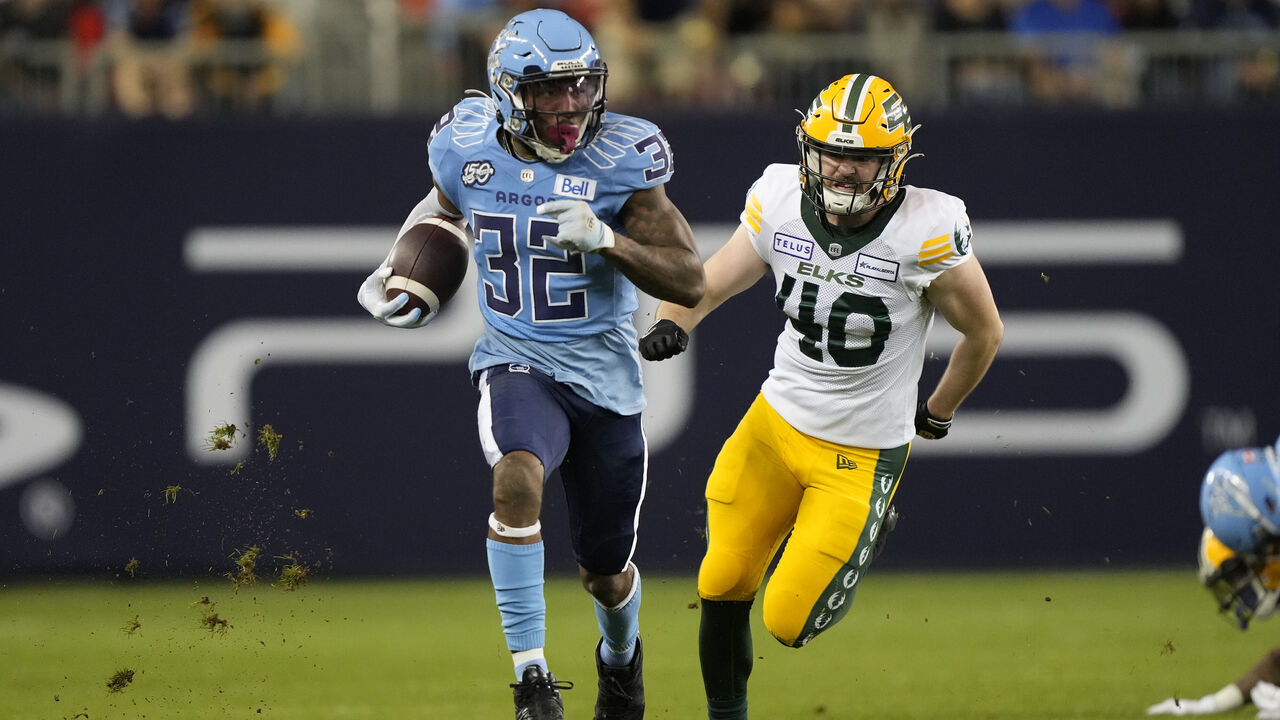 The North Carolina native's four punt-return touchdowns were one shy of tying the CFL record, and Leake is just the eighth return specialist in league history to reach that mark. He collected a total of 2,043 return yards while averaging a league-high 15 yards per punt return and 20.9 yards running back kickoffs.
Leake easily defeated Lions kicker Sean Whyte to become the fifth Argos player to win this award, and the first since Swayze Waters in 2014.
Annis Stukus Trophy (Coach of the Year): Ryan Dinwiddie, Argos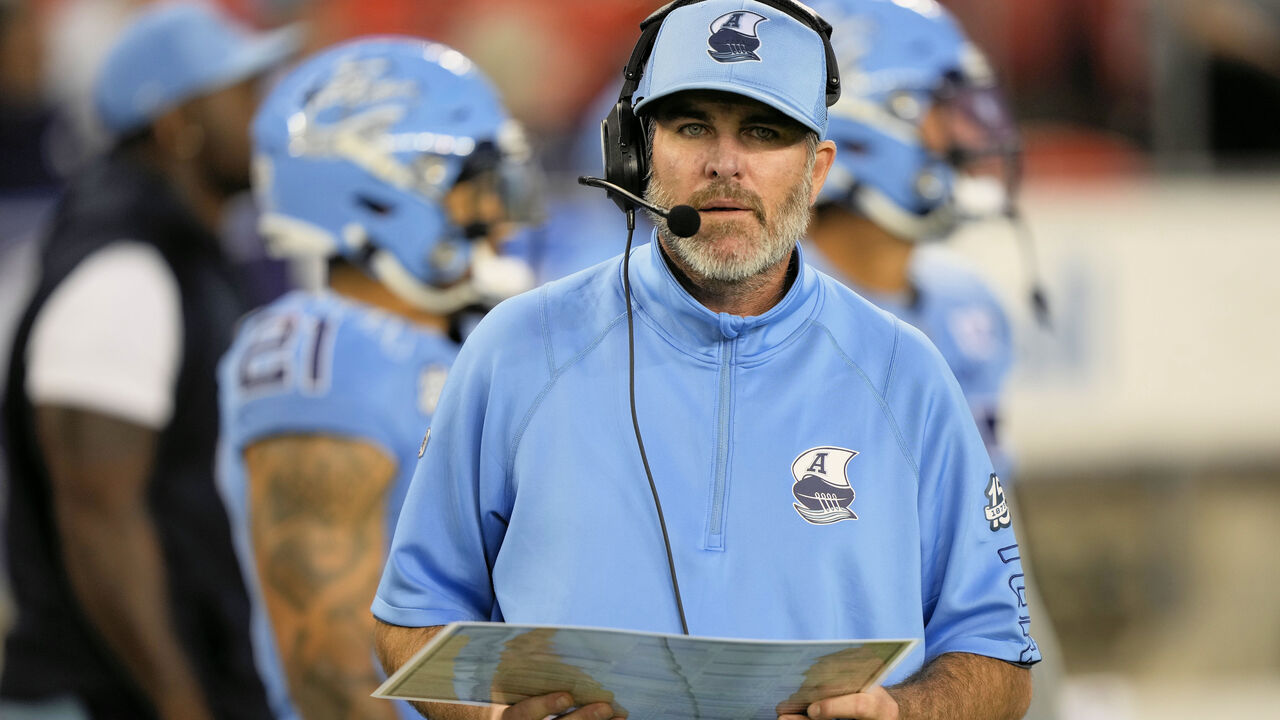 Dinwiddie finally claimed Coach of the Year honors after losing to Winnipeg's Mike O'Shea in each of the last two seasons. The former led the Boatmen to a 16-2 record, tied for the best in CFL history. Dinwiddie's club was undefeated at BMO Field and against their own division during the regular season.
The 42-year-old received 58 of 61 votes to handily defeat O'Shea, the two-time defending winner. He's the ninth victor to come from the Argos and the first since Marc Trestman in 2017.
Tom Pate Memorial Trophy: Brett Lauther, Roughriders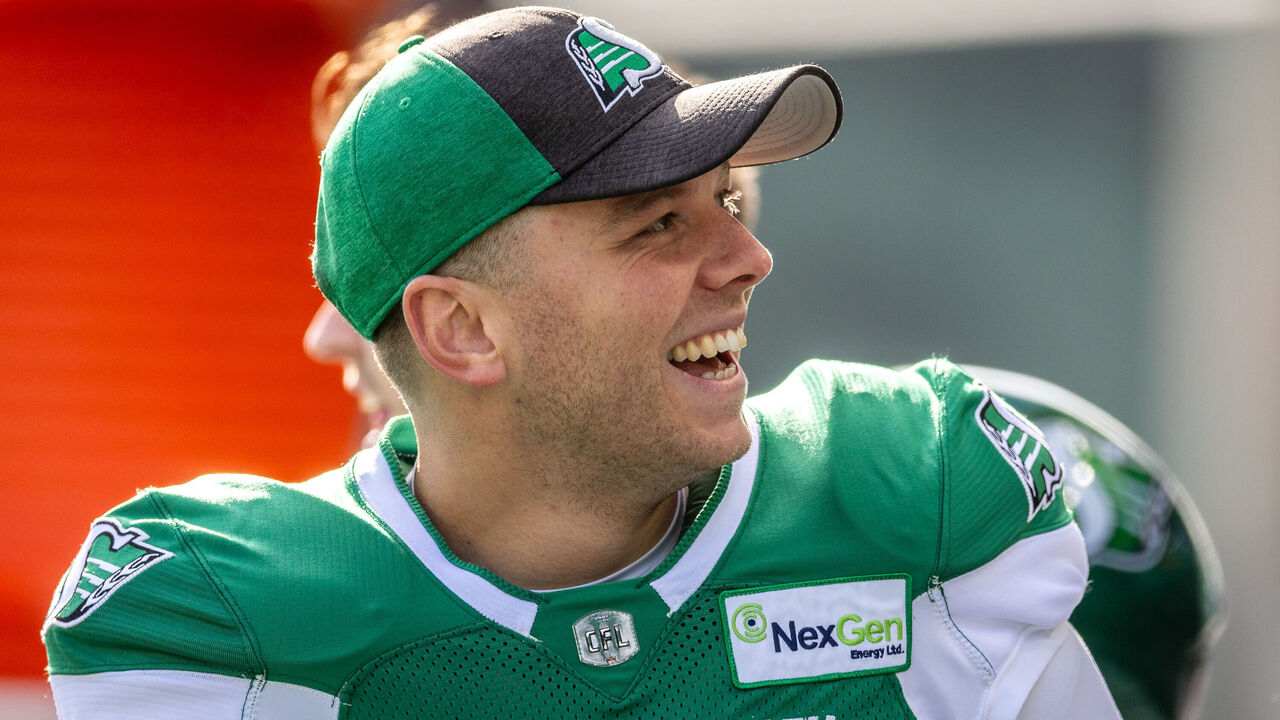 The Canadian Football League Players' Association bestows this award to recognize sportsmanship and significant contributions to both the team and the community. Lauther, a native of Truro, Nova Scotia, works as a volunteer with several children's charities in both his home province and Saskatchewan and also works with the Regina food bank. His charity hockey game between Roughriders and NHL alumni last February raised over $20,000 for KidSport. On the field, he made 36 of 44 field goals for the Roughriders this season.
Jake Gaudaur Veterans' Award: Brayden Lenius, Roughriders
This award is presented to a Canadian player "who demonstrates the attributes of Canada's veterans." Lenius, 26, was sidelined after suffering a lacerated kidney during a preseason game, but defied expectations and returned to action only eight weeks later. He only played in one game for the Roughriders because of a Lisfranc sprain in his season debut but traveled with the team for the rest of the season while rehabbing. Lenius, a Regina native, also works in his community as a player ambassador for the Roughrider Foundation.
Hugh Campbell Distinguished Leadership Award: George 'Gio' Hopkins, Stampeders
This award honors leadership and significant contributions to the CFL. Hopkins, the Stampeders' equipment manager, has spent over 50 seasons with the organization, a run that's included over 1,000 games and six Grey Cup championships. He also works to provide safe equipment for amateur football in Alberta.
CFL Commissioner's Award: Bob Young, Tiger-Cats
This award is presented annually by the CFL commissioner to a person who has made significant contributions to the league. Young has owned the Ticats since 2003 and, under his watch, the team underwent a revitalization and replaced the aging Ivor Wynne Stadium with Tim Hortons Field, which is hosting this year's Grey Cup.
Jane Mawby Tribute Award: Laurence Pontbriand
Established in 2019, this honor is given to a CFL employee who works behind the scenes and outside of the spotlight. Pontbriand is the CFL's senior manager of football and officiating development and has helped grow the league at multiple levels.
The league's 2023 All-Star team was announced last week.