The NFL Power Rankings are selected by a panel of theScore's football editors.
1. Philadelphia Eagles (6-1)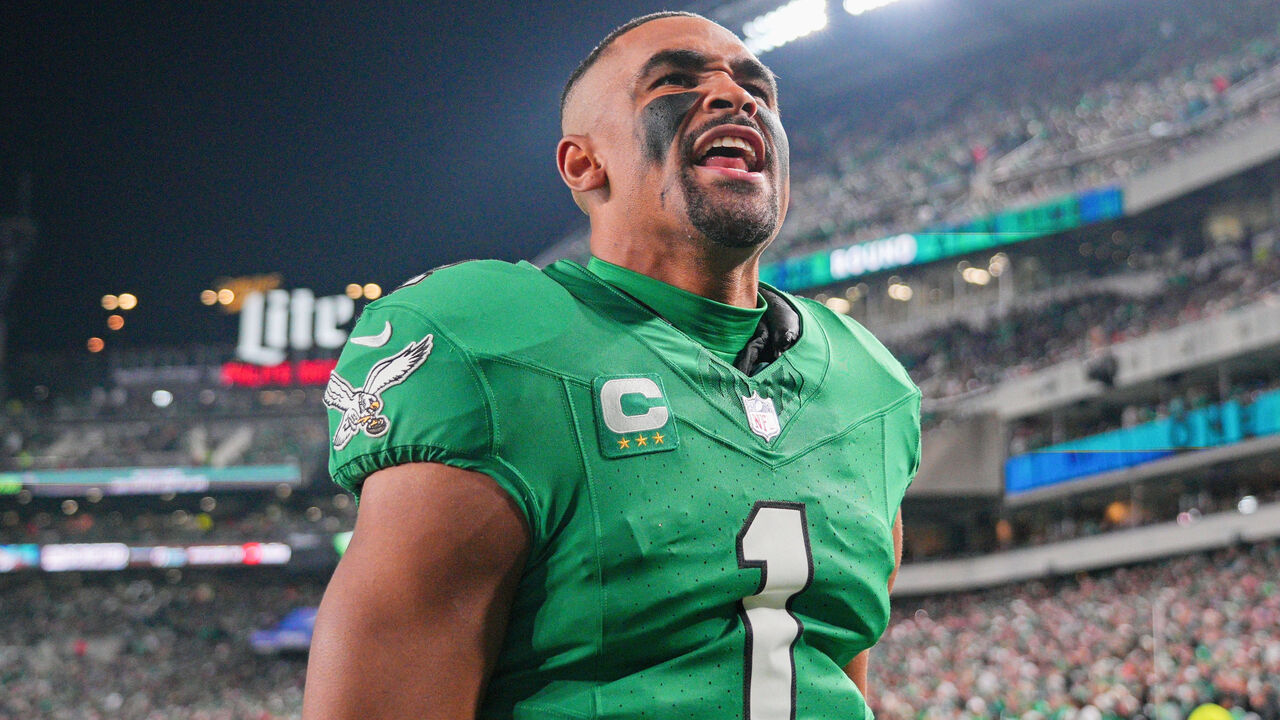 Previous rank: 4
There's a new face at No. 1. After stomping the Dolphins in their most convincing win of the season, the Eagles went out and acquired All-Pro safety Kevin Byard.
2. Kansas City Chiefs (6-1)
Previous rank: 3
The rest of the NFL should be on high alert because the Chiefs are rolling. Kansas City has won six straight, and Patrick Mahomes is coming off a 424-yard, four-touchdown performance Sunday.
3. Baltimore Ravens (5-2)
Previous rank: 7
Here are the high-flying Ravens we were all expecting to see in 2023. Lamar Jackson threw for over 300 yards with four total touchdowns in a complete annihilation of the Lions, who are now 5-2.
4. Miami Dolphins (5-2)
Previous rank: 1
In a game many thought could be a Super Bowl preview, the speedy Dolphins seemed a step behind the Eagles. Their 17 points scored during Sunday night's loss was also their lowest output of the season.
5. San Francisco 49ers (5-2)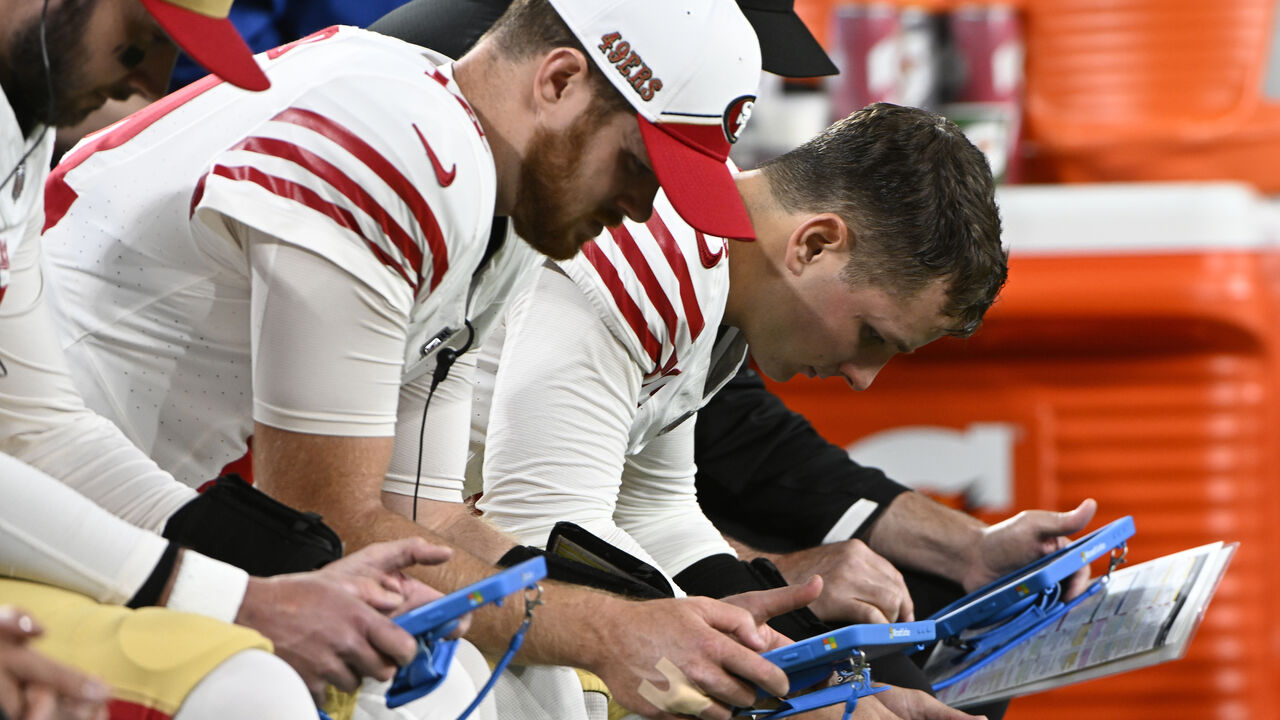 Previous rank: 2
A prime-time loss to Kirk Cousins and the Vikings paired with a second consecutive underwhelming performance from Brock Purdy doesn't look great, but this is still one of the most talented rosters in the league.
6. Detroit Lions (5-2)
Previous rank: 5
The Lions' blowout loss to the Ravens completely derailed their momentum. However, Detroit should be able to get back on track with the NFL's second-easiest strength of schedule the rest of the way.
7. Dallas Cowboys (4-2)
Previous rank: 8
The Cowboys should feel good coming out of their bye week with an offense that ranks top five in scoring and a defense that's allowing the fourth-fewest points per game.
8. Buffalo Bills (4-3)
Previous rank: 6
The Bills continue putting on their best Jekyll and Hyde impression. Buffalo will need to clean up its act after losing two of the last three, with multiple turnovers in all three games.
9. Jacksonville Jaguars (5-2)
Previous rank: 10
Christian Kirk and Travis Etienne are shining as the Jaguars finally put some distance between themselves and the rest of the AFC South thanks to a four-game win streak.
10. Cincinnati Bengals (3-3)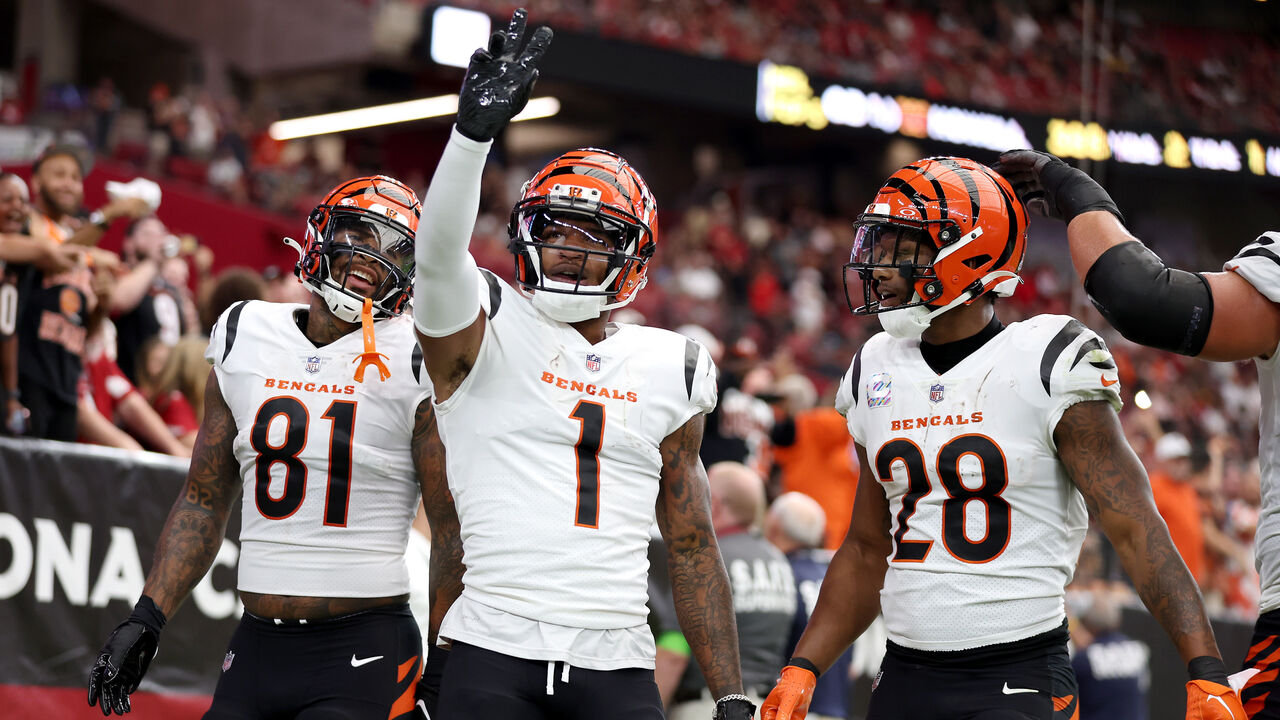 Previous rank: 11
Fans will hope Cincinnati took advantage of its bye week. The Bengals are slated to have the hardest strength of schedule from here on out.
11. Seattle Seahawks (4-2)
Previous rank: 12
The Seahawks defeated the lowly Cardinals, but some concerns remain. Geno Smith has now tossed three interceptions and lost one fumble over the last two games.
12. Cleveland Browns (4-2)
Previous rank: 9
Yes, a win is a win, but the Browns' victory over the Gardner Minshew-led Colts left a lot of worries. Even more concerning is the week-to-week uncertainty over Deshaun Watson's health.
13. Houston Texans (3-3)
Previous rank: 14
After spending last week on a bye, C.J. Stroud has an opportunity to add to his rookie highlights by beating No. 1 pick Bryce Young's Panthers on Sunday.
14. Pittsburgh Steelers (4-2)
Previous rank: 18
Another fourth-quarter shutout from the defense and another Kenny Pickett game-winning drive pushed the Steelers to an improbable 4-2.
15. Los Angeles Chargers (2-4)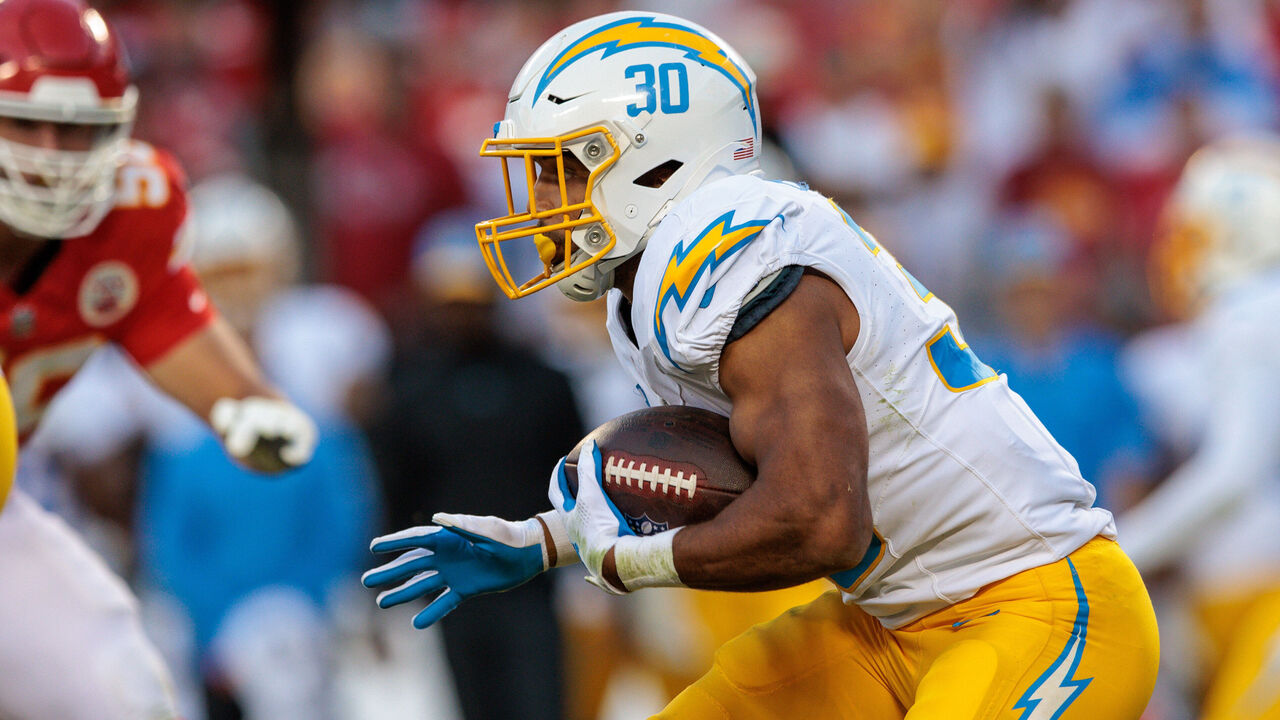 Previous rank: 13
The Chargers say they aren't panicking after a loss to the Chiefs dropped them to 2-4, but maybe they should. It's beginning to look like another disappointing year for Los Angeles.
16. Minnesota Vikings (3-4)
Previous rank: 20
Cousins had one of the best prime-time games of his entire career Monday night. The victory over the 49ers may have stopped a fire sale from happening at the trade deadline.
17. New York Jets (3-3)
Previous rank: 16
The Jets can go above .500 with a win against the 2-5 Giants next. That's a better outcome than many would've expected following the loss of Aaron Rodgers.
18. Atlanta Falcons (4-3)
Previous rank: 19
Atlanta came away with a sloppy win against the Bucs to take over first place in the NFC South this weekend. They'll have the inside track to retain that lead with the league's easiest remaining strength of schedule.
19. Los Angeles Rams (3-4)
Previous rank: 15
Puka Nacua continued his historic rookie campaign, but Cooper Kupp had just two catches on seven targets Sunday. The Rams will look to get back in the win column – and get their superstar involved – against the Cowboys.
20. Tampa Bay Buccaneers (3-3)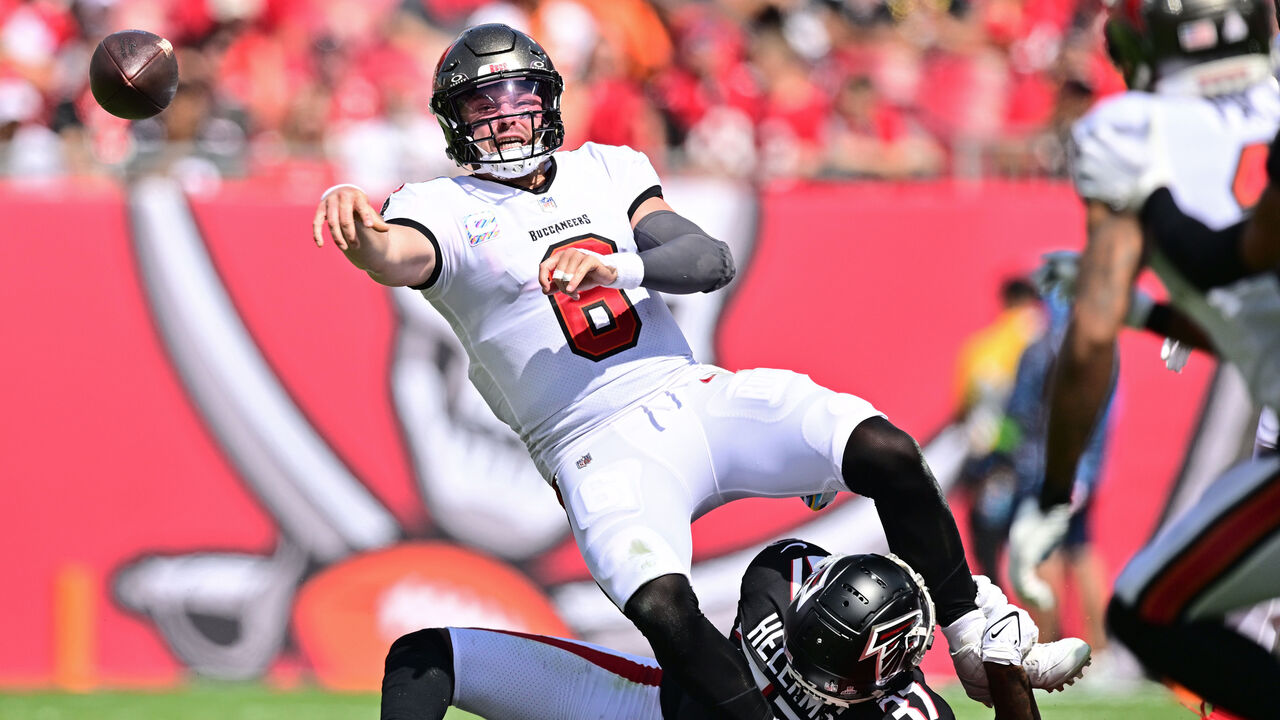 Previous rank: 17
The Bucs have failed to establish the run this season, ranking bottom five in rushing yards per game. Tampa's lack of rushing production has forced Baker Mayfield to average 34 pass attempts per contest.
21. Indianapolis Colts (3-4)
Previous rank: 23
Minshew scored two touchdowns through the air and another pair on the ground against the Browns, but the Colts still managed to lose by a single point. That's largely thanks to gifting Cleveland 67 yards on eight penalties.
22. New Orleans Saints (3-4)
Previous rank: 21
The Saints' 34-0 dismantling of the Patriots in Week 5 feels like an eternity ago after back-to-back losses to AFC South clubs dropped the team below .500. New Orleans remains within shouting distance of the division lead despite those losses.
23. New York Giants (2-5)
Previous rank: 27
Big Blue took down Sam Howell six times Sunday, more than doubling their production for the season after entering the weekend ranked last in team sacks. The Giants still barely came away with a victory.
24. Washington Commanders (3-4)
Previous rank: 22
Captain Jonathan Allen didn't hold back after the Commanders' latest loss. Washington had a chance to tie or take the lead late and failed to get it done for what felt like the millionth time since Allen was drafted.
25. Chicago Bears (2-5)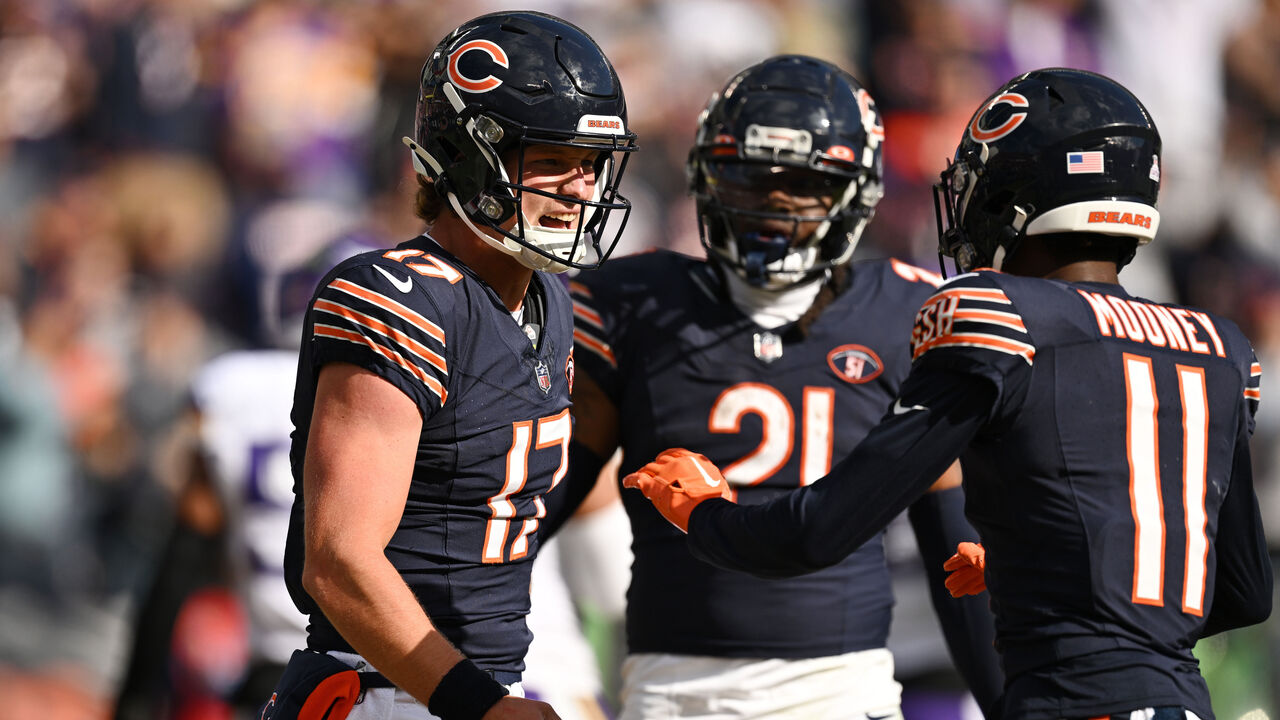 Previous rank: 28
The Bears showed out against the Raiders despite Justin Fields missing the contest with a dislocated thumb. Tyson Bagent's story is remarkable, but it was D'Onta Foreman who scored three times in the victory.
26. Tennessee Titans (2-4)
Previous rank: 26
Veterans Derrick Henry and DeAndre Hopkins might not be around much longer if the team can't string together some wins after having this week off.
27. New England Patriots (2-5)
Previous rank: 31
Head coach Bill Belichick picked up career win No. 300 this weekend on the back of a strong defensive outing and a clutch end-of-game drive from Mac Jones and the offense.
28. Denver Broncos (2-5)
Previous rank: 30
Sean Payton picked up his second win with Denver, but the team barely beat the Packers and is slated to be without defensive back Kareem Jackson for four games after a suspension.
29. Las Vegas Raiders (3-4)
Previous rank: 24
Not only did the Raiders lose to the Bears – they lost to a backup quarterback out of Division II Shepherd. It feels like Davante Adams, Josh Jacobs, and Maxx Crosby are all that stand between this team and the No. 32 spot.
30. Green Bay Packers (2-4)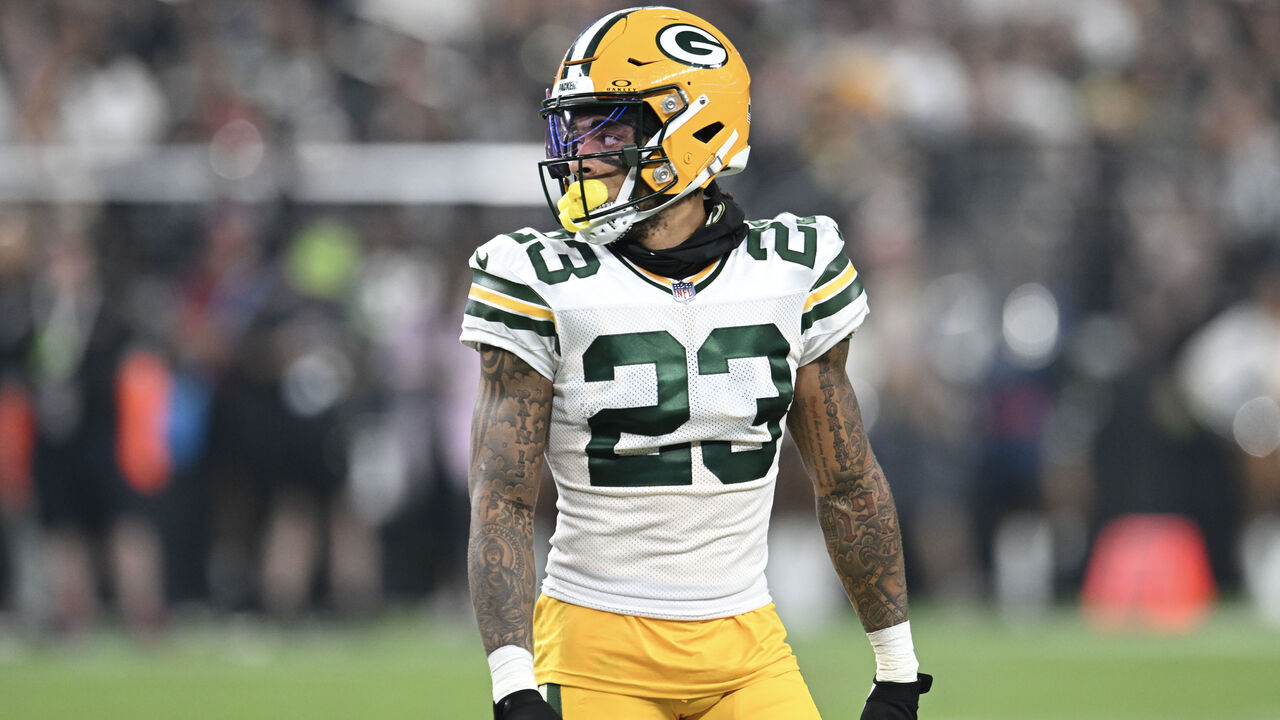 Previous rank: 25
Green Bay's youthful offense is still going through growing pains. The defense continues to do its best to keep the Packers in games.
31. Arizona Cardinals (1-6)
Previous rank: 29
The Cardinals hung around for a bit with Seattle, but the talent simply isn't there yet. Arizona's remaining strength of schedule is the league's second hardest – finding another win will be difficult.
32. Carolina Panthers (0-6)
Previous rank: 32
Hopefully, the Panthers spent their bye week working the phones to see what the trade market for Brian Burns and Derrick Brown is like.