We often want to take lessons from the construction of the rosters that advance deep into October. This year, we'll hear a lot about teams needing to be more aggressive in free agency and at the trade deadline.
How much of what the Texas Rangers and Arizona Diamondbacks did to reach the World Series can be instructive to other clubs?
The Rangers advanced to their third World Series in franchise history, and first since 2011, with a lineup and starting rotation of core free-agency additions like Marcus Semien, Corey Seager, and Nathan Eovaldi and trade-deadline acquisitions in Max Scherzer and Jordan Montgomery. While Evan Carter and Josh Jung are significant homegrown players, external additions were largely responsible for turning around a club that lost 102 games in 2021 and 94 games last year.
The 2022 Philadelphia Phillies took a similar path, advancing to the World Series with a foundation largely built through free agency. The Phillies made another deep October push this season, with 60% of their regular-season WAR production coming from free agents.
On one hand, those routes suggest that teams ought to be much more aggressive in free agency and in making win-now trades.
But that's not the path the Diamondbacks took to become newly minted National League champions.
They are a younger, more homegrown team. The Phillies ended the season with the No. 5-ranked payroll, while Arizona ranked 21st. The D-Backs' path to capturing a pennant is highly unusual: They had a negative run differential in the regular season. They are four wins away from joining the 1987 Minnesota Twins as the only teams to win a World Series after being outscored in the regular season.
What can we take from these roster builds? For starters, it can be dangerous to assume the next set of pennant winners will look a lot like the previous ones.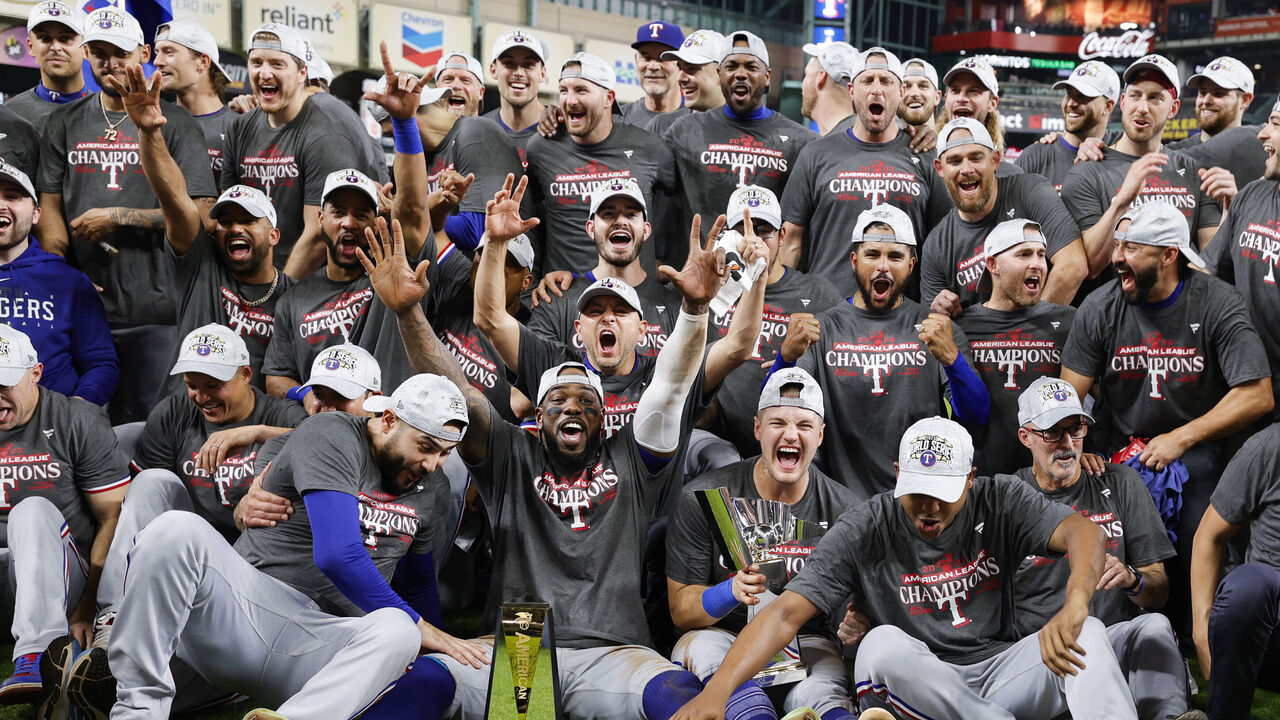 Consider the San Francisco Giants and Kansas City Royals teams of the mid-2010s. Some believed those World Series clubs created a new model for winning: eschewing power for line drives and stringing singles together to manufacture runs. That was the new way to succeed in a higher-strikeout environment.
Well, that didn't work out.
Ball- and swing-tracking tech came into use – so, too, did juiced balls for a time – and hitters learned how to add loft to their swings to generate more distance. The home run remains king, especially in the postseason, as the Phillies and Rangers have shown us. Any teams trying to copy those Giants and Royals outfits – which played in pitcher-friendly venues – likely set themselves back.
The expanded playoffs have also changed the landscape.
This will be the third World Series meeting between two wild-card teams, and that will happen more frequently with two additional wild cards in the field. (2002 Angels-Giants and 2014 Royals-Giants were the others.)
There are now an equal number of division winners and wild cards in the postseason. There's a reason many teams are following Seattle Mariners president of baseball operations Jerry Dipoto's philosophy and trying to reach the postseason as often as they can rather than going all-in during any one campaign.
Dipoto took heat after the season for saying the goal is to sustain a 54% winning percentage, which ought to be enough to get you in the playoffs most years. And once you're in, anything can happen. The Diamondbacks and Rangers combined for a 53.7% winning mark this year. The Phillies won 54.6% of their regular-season games over the last two years.
The expanded playoff field, which enhances the random nature of small-sample-size baseball, lessens the incentive to be a truly great team. The most significant incentives are now tied to moving from being a slightly below-average club to a slightly above-average club. You don't have to pay for the moon to buy a ticket to the postseason.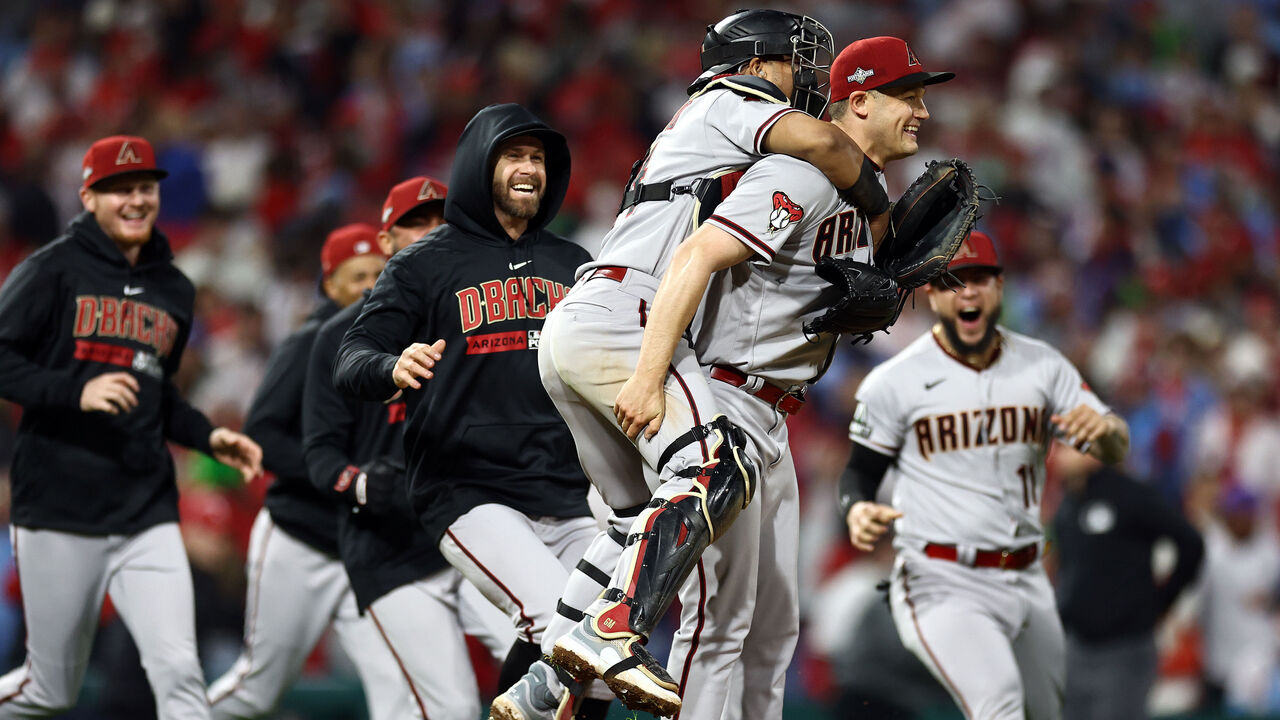 The Rangers and Phillies found shortcuts to upgrade themselves to above-average teams. But there are issues in trying to replicate their approaches.
Only a select group of owners is willing to take a free-agency-focused path to team building, and adding aging players is inherently risky.
While it's worked out for the Phillies and Rangers – at least with Seager and Semien, if not Jacob deGrom – in recent seasons, the Los Angeles Angels, New York Mets, and San Diego Padres are evidence that big spending alone isn't enough.
What approaches are timeless? Quality homegrown cores and excellent draft-and-development departments never go out of style as building blocks to sustained success. Should teams be aggressive in supplementing their cores? Absolutely. The Diamondbacks did add closer Paul Sewald at the trade deadline (acquiring him from Dipoto). But sustained excellence almost always starts from within.
The Houston Astros followed such a path en route to seven consecutive league championship series appearances – the second-longest streak in history, trailing only the Atlanta Braves' eight consecutive trips during the 1990s.
In the game's largest market, the New York Yankees had a homegrown core in their four-title run between 1996 and 2000. The Los Angeles Dodgers have had a similar approach during their run of 11 straight playoff appearances.
Although the Diamondbacks are more homegrown, it's hard to argue that a team that allowed more runs than it scored in the regular season offers a reliable road map to the World Series.
But this also offers a lesson for the 101-win, largely homegrown Baltimore Orioles: They're unlikely to fill all their gaps with internal options and will probably need more star-level pitching to advance in October. Adding external help will be necessary, and many World Series champs have paid up for top-end free-agent talent.
Although the Rangers and Diamondbacks are great stories, their success might not offer a model for other teams.
Game 7 was won before it started
The Rangers overhauled their roster in recent years, and their coaching staff also underwent an extreme makeover. That included adding hitting coaches Tim Hyers and Donnie Ecker, who brought in new training practices used in concert with new coaching tools.
Earlier this season, Hyers told theScore about new-age pitching machines the club was using to mimic the speed, movement, and velocity they expected from that day's starting pitcher. Like many clubs, the team is also using foam baseballs with high-velocity machines to cut down on the wear and tear on hitters' hands.
"Everything is based off the fastball," Hyers said. "Understanding the different movement profiles of the fastball. … We have technology now where we can train against it before we play against it. We've never had that before, so I think that's one of the bigger things.
"I wish I knew about fastball characteristics 10 years ago."
The Rangers went from the fourth-worst team against four-seam fastballs last season to the 10th-best team this year.
"I would never do that early in my career," Semien said earlier this summer of hitting regular balls out of high-velocity machines. "That's one thing I (now) do every day. I want to make sure I'm ready to hit anyone's best fastball. Teams who hit fastballs the best and take chase pitches are going to be successful. That's what we are striving to do."
It seemed to pay off against Astros starting pitcher Cristian Javier in Game 7 on Monday.
Javier had largely silenced the Rangers' bats in Game 3 when he picked up the win by allowing just three hits and two runs over 5 2/3 innings.
Javier had thrown 100 fastballs this postseason prior to Monday's start and allowed just two hits against the pitch; opponents were 2-for-22 against his fastball.
The Rangers worked on an adjustment in their game-like practice. Part of their pregame preparation for Javier's fastball was to swing three baseballs higher than where they thought it'd be, Ecker told the TBS broadcast crew.
In the first inning, Seager hit a 440-foot home run against a high fastball, and Adolis García and Jonah Heim also had hits off fastballs as they chased Javier from the game after just six batters.
Javier wasn't missing his spots; the Rangers just made an adjustment and executed.
When you wed elite talent with value-adding coaching, good things happen. After all, it's what the Astros have been doing for years.
A complicated legacy
Speaking of Houston, whenever this era of Astros baseball ends, it'll leave behind a complicated legacy.
Over the last seven seasons, the Astros have won two World Series and 631 regular-season games, trailing only the Dodgers (632). It's a remarkable run, though that legacy will be tarnished by the sign-stealing scandal.
The scandal overshadows how good these teams have been, and how innovative the Astros were in player development, pushing the industry forward in many areas.
They were excellent in getting the most out of their players, and we were reminded of that again this postseason.
Consider Jose Altuve, who entered 2014 with a .377 slugging mark through the first three seasons (1,500 plate appearances) of his career. He didn't look like an impact bat at that time. What happened? He went from pulling the ball less than 40% of the time to pulling it at a 50% rate – and hitting it in the air more often. It allowed him to bolster his rare contact skills with much greater power.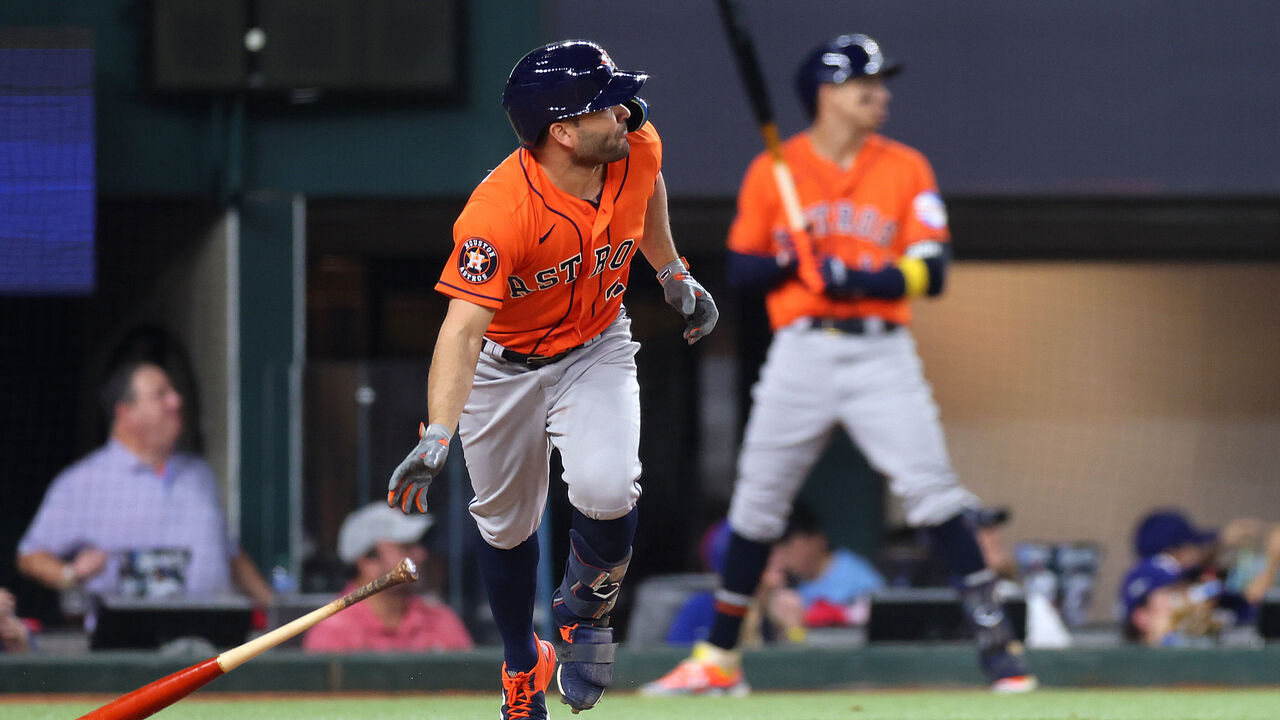 Alex Bregman is a similar case. His average career home run distance is only 384 feet, well below average. He's never hit a home run to straightaway center at his home ballpark.
But both players learned how to optimize the damage they could do by hitting the ball to their pull side.
Altuve (27) and Bregman (19) rank second and sixth in career postseason home runs.
But this core, and its success, won't last indefinitely.
This year, the Astros posted their lowest full-season win total since 2016 (90), declining from 106 wins in 2022. Their run differentials have declined from at least 205 runs in full seasons from 2018-22 to 129 runs this season.
The farm system is in decline, and most of the front office and player development officials who built this empire have gone elsewhere.
It's going to be hard to sustain this level of play.
Judging intent
Bryan Abreu has faced 832 batters in the regular season and playoffs during his career. He's hit seven batters with the first pitch of the at-bat.
García became the seventh when Abreu drilled him with a 99-mph fastball in the eighth inning of Game 5. It was García's next plate appearance after his three-run homer in the sixth gave Texas a 4-2 lead. After smashing the homer, García enjoyed watching the flight of the ball at home plate followed by a slow walk to first base.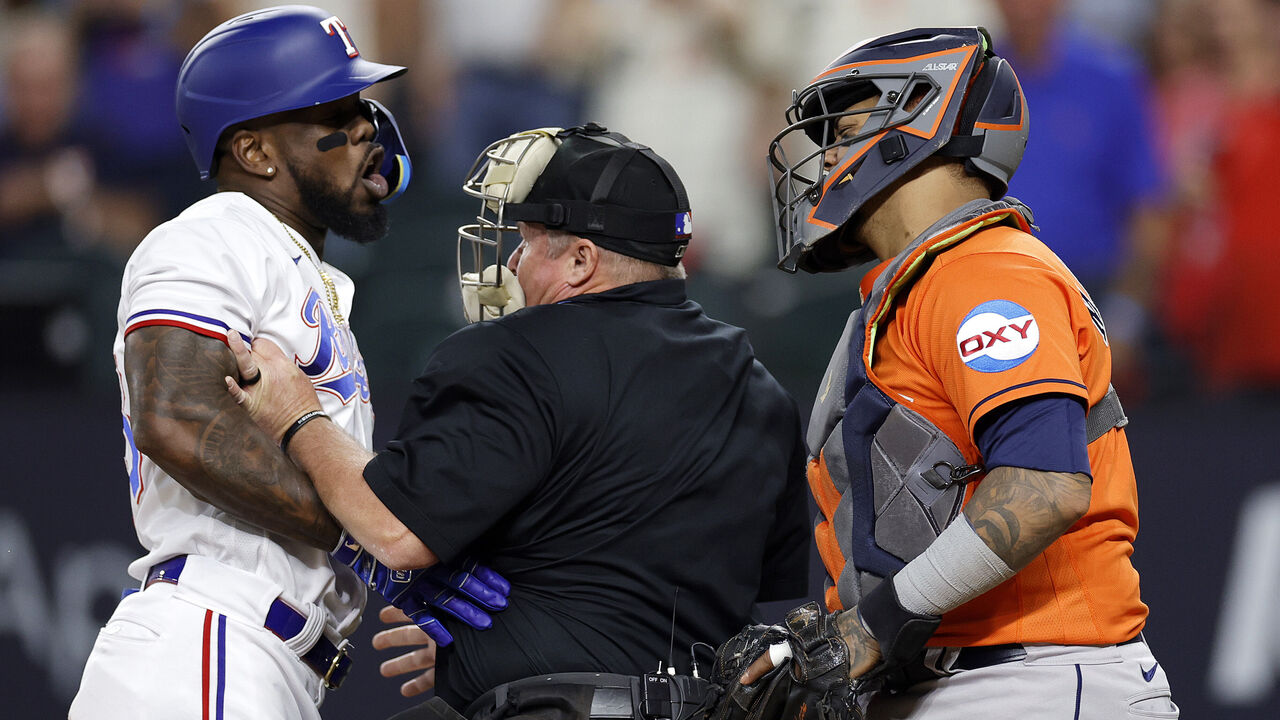 Umpires tossed Abreu from the game, believing there was intent, and MLB later suspended him for two games. (That suspension will be served next season.) Many doubted Abreu had actual intent to hit García given the game situation.
While reading intent is difficult, it's an umpire's duty to prevent an escalation, especially given the velocity in today's game. The umpires made a reasonable decision. We'll never know for sure, but Abreu's dearth of first-pitch HBPs doesn't help his case.
Going a bit deeper
Bullpens have taken on more and more of the postseason work in recent years. As starting pitchers' outings have shortened in the regular season, it was even more stark in the postseason. In all five previous postseasons that followed full 162-game schedules, starting pitchers averaged less than five innings.
But this year, starting pitchers are averaging 5 1/3 innings. Though many starters still aren't facing an opponent's lineup more than twice, they are working a bit deeper. While this is just one October of data, perhaps we've reached the limits of bullpenning.
Everyone missed on García
Much is being made of the St. Louis Cardinals trading García to Texas for cash considerations in 2019. But the Rangers also designated García for assignment in 2021, and he cleared waivers. That means every team could've had the 2023 ALCS MVP, who's now played at a star level in three consecutive seasons.
He said it
"That ability to kind of anticipate the fence and just have that, I guess, proprioception and that ability." – Arizona outfielder Corbin Carroll on Alek Thomas' catch in Game 6
Proprioception is the body's ability to sense movement and location. Carroll is not just one of the most exciting young players in the game, he's also expanding our vocabularies.
Travis Sawchik is theScore's senior baseball writer.