Two more clubs' seasons ended before they could achieve their goals of winning a pennant and getting a shot at a championship. We take a look at where the Phillies and Astros stand entering the offseason and the areas they might look to address in hopes of making a deeper run in 2024.
Philadelphia Phillies
That Game 7 loss to the Arizona Diamondbacks will haunt Philadelphia for a long time. Having already dispatched the powerhouse Atlanta Braves, the Phillies blew 2-0 and 3-2 series leads against the 84-win D-Backs and couldn't put them away with two cracks at home.
Bryce Harper said he was devastated and felt like he let the team and city down. Nick Castellanos called it a "disgusting feeling." Kyle Schwarber said everyone on the team felt sick – and rightfully so. This was a massive missed opportunity.
Last year's trip to the World Series seemed like a successful season despite falling short. It was something to build off. This year, though, seems like a failure. The Phillies were healthy and had – on paper – what is likely the easiest path to a championship they will ever have. They had momentum. They had the talent. And now Dave Dombrowski and his front office head into the winter picking up the pieces.
Phillies owner John Middleton has committed serious resources to the club. The team had a $243-million payroll this season – fourth-highest in the majors. The good news is the core remains intact, as Harper, Trea Turner, J.T. Realmuto, Zack Wheeler, Castellanos, and Schwarber are all signed through next season. Wheeler, however, is a free agent after the 2024 season. The team should approach him with an extension offer this winter after another very good year.
Dombrowski needs to decide if the team wants to bring back Aaron Nola; if not, Philadelphia needs to land another top-of-the-rotation arm. Nola, who has said he wants to return, has spent his entire nine-year career with the Phillies and is coming off another solid season. He will be one of the top free-agent pitchers available. Should Dombrowski go in another direction, Blake Snell and Yoshinobu Yamamoto could be potential options.
Rhys Hoskins, another longtime Phillie, is set for free agency. The 30-year-old, who has played all of his six MLB seasons with the club, missed all of 2023 after tearing his ACL. Hoskins is expected to be healthy heading into next year, but if Dombrowski isn't willing to give him a long-term deal, the club could extend a one-year, $20.5-million qualifying offer. Hoskins would likely accept, and that would address a need for the club with minimal risk. Hoskins' return would also allow Harper to return to the outfield, but that would create somewhat of a logjam with Castellanos and Schwarber. The Phillies can be thankful for the universal DH.
There's no disputing Dombrowski's strong resume as an executive, but he has struggled when it comes to constructing the bullpen. Although Phillies relievers ranked seventh in ERA during the regular season, it still felt like the club was one or two high-leverage arms short when it mattered most. Craig Kimbrel allowed four combined runs in Game 3 and 4, which let Arizona back into the series. It's unlikely he'll return. The bullpen should be one of the club's priorities.
Philadelphia is a very good team and its World Series window is still open. The bulk of the heavy lifting has already been done, and while it's unlikely the Phillies hand out any $300-million contracts, it remains time to push their chips all the way in.
Houston Astros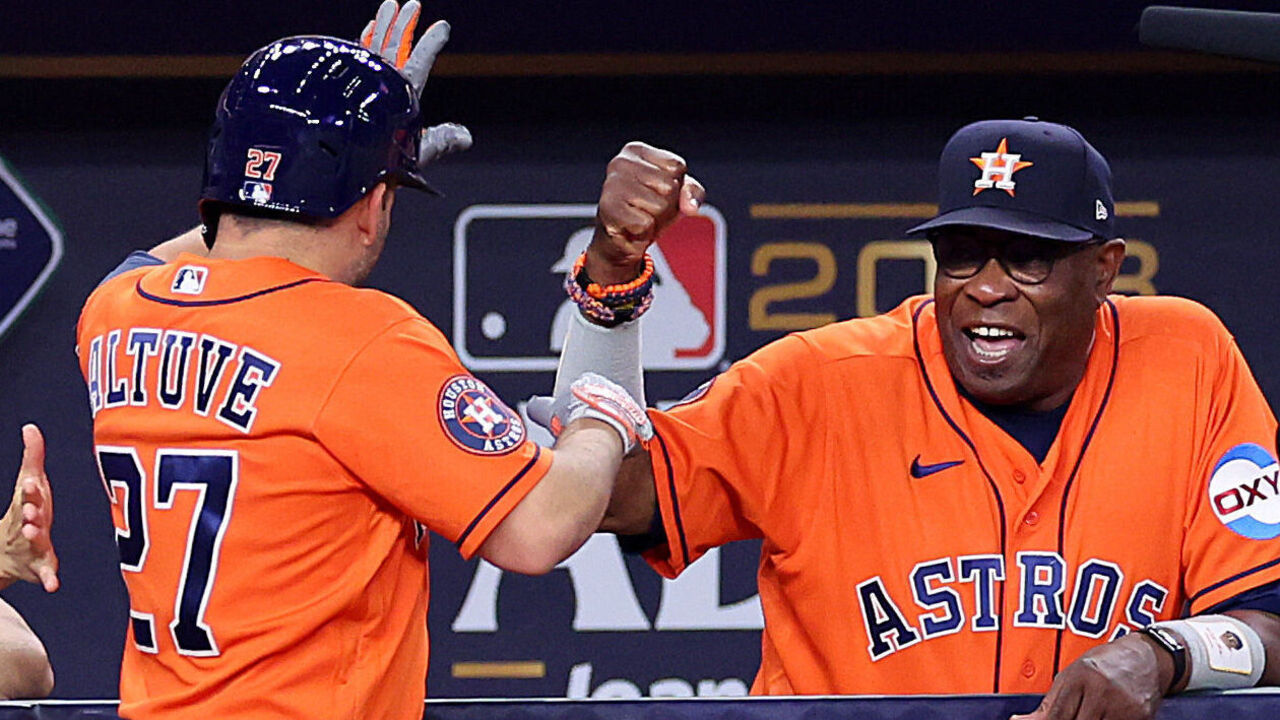 It's strange to view a season with a seventh straight ALCS appearance as a disappointment, but that's the reality when talking about the Astros' run. Coming off a World Series championship in 2022, they were expected to add another ring to the collection with most of last season's roster intact. Things just never really seemed to click in 2023. Free-agent acquisition José Abreu struggled in the regular season, while the club had to navigate major injuries in the rotation to the likes of Lance McCullers Jr. and Luis Garcia.
After losing the ALCS in seven games and dropping all four home contests in the process, there are plenty of questions ahead for Astros general manager Dana Brown. The biggest domino to look at is the future of manager Dusty Baker. The future Hall of Famer helped stabilize the franchise in the wake of its cheating scandal when he took the job in 2020. Baker led the team to two World Series appearances, capturing his first championship as a manager in 2022. There were certainly warts along the way and some questionable strategic decisions. His insistence on playing Martín Maldonado at catcher over breakout rookie Yainer Diaz was a puzzler. Baker hinted at retirement following Houston's elimination, but even if he does want to keep managing, it seems like the right time for the Astros to inject a new voice into the clubhouse.
Brown also has a few important decisions to make in terms of impending free agents. Maldonado has earned praise since joining the team in 2019 but is 37 years old and should be considered a backup if the Astros re-sign him. It's time for Diaz to be handed the reins as the everyday catcher. Michael Brantley battled a troublesome shoulder issue for most of the year, making just 15 regular-season appearances. The 36-year-old still hit .278, but the Astros could benefit from having a more reliably available option throughout the regular season.
Although they're returning the core of a successful roster in 2024, plenty of questions surround the long-term futures of a handful of franchise pillars. Outfielder Kyle Tucker struggled in the postseason, hitting just .150 with a .517 OPS in 40 at-bats. Tucker has two years of club control remaining before he reaches free agency. The 26-year-old has developed into one of the best all-around players in baseball, amassing 4.7, 4.8, and 4.9 fWAR over the last three regular seasons. Astros owner Jim Crane has balked at giving out contract extensions exceeding six years during this run, but he'll need to get out of that comfort zone if he hopes to retain Tucker for the long haul.
Uncertainty also clouds the futures of Jose Altuve and Alex Bregman, who are both free agents following 2024. It's hard to envision Altuve, arguably the greatest player in franchise history, wearing any other uniform. Bregman's status feels a little more tenuous. The Astros inked him to a six-year, $100-million contract extension in 2019. The deal has turned into a bargain for the franchise with Bregman cementing himself as one of the game's premier third basemen. His agent is Scott Boras, who notoriously likes to have his clients test free agency to maximize their value. Houston doesn't have a ready-made replacement, so the next 12 months will be very interesting and likely stressful for Astros fans.
Assuming everyone's healthy, the Astros project to enter 2024 with a starting rotation of Justin Verlander, Framber Valdez, Cristian Javier, McCullers, and one of Hunter Brown or J.P. France, with Garcia likely to return from Tommy John surgery at some point during the regular season. It became clear throughout the year that the Astros were lacking starting pitching depth. Brown must fortify that area so the club doesn't run into the same issues again.