Venue:
Riyadh, Saudi Arabia
Date:
Saturday, 28 October
Coverage:
Follow text commentary on BBC Sport website & app from 21:00 BST.
"The path of life, you can't really explain. We just live our lives. I always think, you do your best and see what happens. Sometimes it can be quite amazing."
To say Francis Ngannou has lived an amazing life so far is an understatement.
The 37-year-old has come from working in a sand quarry in Cameroon as a 12-year-old to the very pinnacle of combat sports, becoming UFC heavyweight champion with 16 stoppages in 17 wins.
Now Ngannou is preparing for his boxing debut, taking on undefeated heavyweight world champion Tyson Fury in Saudi Arabia on Saturday.
"Boxing was my first love ever since I can remember," Ngannou said.
But how did the MMA star manage to become one half of one of the biggest crossover fights in history?
To many boxing fans, he is a completely new face with an unknown backstory. But for Ngannou, this fight is just another step on a remarkable journey.
'It was hell on earth'
Ngannou was born in Batie, Cameroon. Like most of the roughly 10,000 people in the town, the Ngannou family lived in poverty, and Francis was sent out to work throughout his childhood.
Having been inspired by his father, a notorious street fighter in the region, Ngannou set his sights on a combat career of his own. But he wanted to take on his rivals in the ring.
At 26, Ngannou moved to France to pursue his dream, reaching Europe via a treacherous migrant route.
"It was hell on earth. The worst thing is crossing the sea. It was just a huge risk," Ngannou said.
More hardship befell Ngannou when he eventually arrived in Paris, where he remained homeless and struggled to make progress with his fighting ambitions.
Eventually he discovered a training gym, where he was introduced to MMA. He was pointed in the direction of MMA Factory, France's most prestigious MMA gym run by fellow Cameroonian Fernand Lopez. There, Ngannou built up his fitness, honed his skills, and slept inside in the dry rather than on the streets.
A stable career in MMA was still a long way off. The sport was illegal in France at the time and the biggest promotion in the world, the UFC, was in the USA.
"About a year before [I joined] the UFC [in 2015], I was always complaining about hardships and things that had happened to me. Am I cursed?" Ngannou said.
"Then, it was like a revelation, something hit my mind. I realised, yes I have fallen so many times, but that means I have stood up so many times.
"I'm not afraid of anything life throws at me – I can manage it because I have the ability."
From MMA nobody to UFC champion
Ngannou's 6ft 4in frame made him a formidable prospect as soon as he entered the UFC's heavyweight ranks, but he quickly demonstrated a particular unique skill, which struck fear into opponents far and wide.
The staggering strength of Ngannou's right hand, the hardest punch on record, was once measured at the equivalent of 96 horsepower – imaging being hit in the face by a Ford Escort and you'll have a rough idea what that feels like.
His power is what makes Ngannou such an interesting opponent for Fury; it was what caught the eye of the UFC in 2015 after just six fights.
After arriving Stateside, Ngannou produced six early stoppages in the UFC, including two first-round one-punch knockouts. He was fast tracked to a title challenge against Stipe Miocic in 2018, where lost on points.
"The first time I fought for the title, I wasn't a complete fighter at all. I was like a freshman at school," Ngannou said.
He rebuilt himself and took on the same opponent for a second shot at the title in 2021.
Seven years after learning what MMA was while homeless in Paris, Ngannou eviscerated Miocic with another one-punch knockout to become the UFC's heavyweight champion.
'We spoke it into existence'
Ngannou's reign as champion lasted just one fight because of a serious knee injury he picked up after a successful first defence.
His desire to purse boxing and be paid more also caused his relationship with the UFC to break down. In a rare move for a fighter at the peak of his powers, Ngannou opted to leave the promotion behind.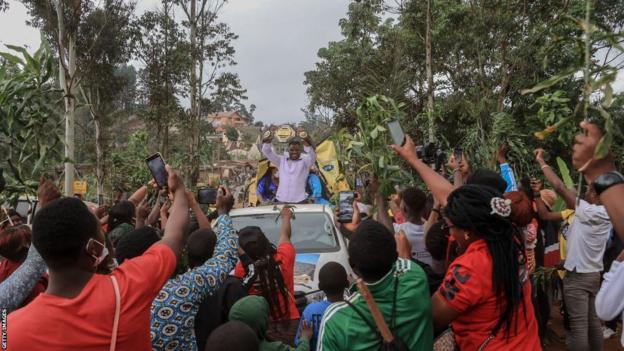 He says he left the UFC "for freedom rather than money". The UFC's contracts prohibit athletes from competing in any form of combat sports without their permission.
But Ngannou wanted to box. UFC president Dana White believed that a potential fight between Ngannou and Anthony Joshua was a "gimmick", though, despite allowing Conor McGregor to fight Floyd Mayweather in 2017.
Regardless, Ngannou set about pursuing his dream. He signed with rival MMA promotion PFL in May and announced his boxing fight with Fury in July.
Fury says Ngannou could make as much as £8m from their fight, while his last UFC appearance earned him a reported £490,000. But the boxing move does not come without controversy.
The fight between Fury and Ngannou serves as one of the headline shows of Saudi Arabia's 'Riyadh Season'.
Saudi Arabia's increasing desire to host elite sporting events – including boxing matches, an annual Formula 1 race, and the 2034 World Cup – has caused controversy because of the country's human rights record.
Mohammed bin Salman, the Saudi crown prince, said in September that he "does not care" about accusations that the country is "sportswashing" – investing in sport and using high-profile events to improve its international reputation.
In August, Saudi border guards were accused in a report by Human Rights Watch of the mass killing of migrants along the Yemeni border. Saudi Arabia has previously rejected allegations of systematic killings.
The scrutiny on Saudi Arabia has not, though, prevented elite-level sportspeople from competing there.
Ngannou, for his part, is trying to focus on sport.
"I went from the very bottom to the top – from nobody to somebody," Ngannou said.
"Sometimes I wake up in the night – I'm like 'hey man, am I tripping? Is it real?' Then I walk around and look at stuff and I'm like – 'I'm not dreaming. This is real.'"